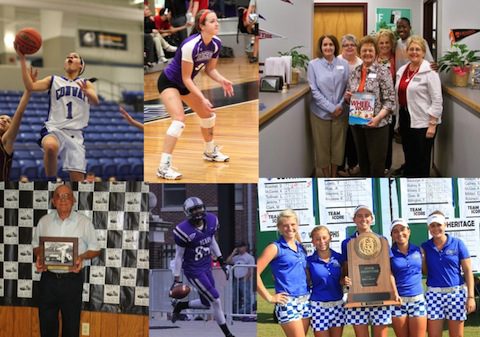 26 Dec 2012

Top sports stories for 2012

2012 was a big year for sports in the 501.

For 501 LIFE, 2012 marked the second class of the 501 Football Team and the first anniversary of the launching of 501 Sports Extra.


"We were excited to share individual stories about each of the members of the 501 Football Team with our readers," said 501 LIFE editor/publisher Sonja Keith. "We are proud to celebrate these outstanding young athletes and their success on and off the football field.


"We also want to extend congratulations to Will Francis and the Harding Academy team on their state championship."


Members of the 501 Sports Editorial Board selected its own top sports stories of the year:

UCA teams – The University of Central Arkansas Sugar Bears Volleyball Team defeated the Oral Roberts Golden Eagles in the finals of the Southland Conference Tournament to secure the conference's automatic bid to the NCAA tournament – a first for UCA. The team fell to the 13th-seeded Washington Huskies in the first round, ending the season at 30-5, the best record for the Sugar Bears.

The UCA Bears football team earned a second consecutive trip to the NCAA Division I Playoffs. The eighth-ranked Bears finished the regular season with a 9-2 mark and received a first-round bye in the playoff field. The Bears were defeated by Georgia Southern. The

Sugar Bear Basketball Team began the succes

sful year for UCA by

w

i

nning their first SLC regular season tit

le. Megan Herbert was named the SLC Player of the Year for the second consecutive year,

s

enior guard Nakeia Guiden, who played at Guy-Perkins High School, was a third-team all-conference selection

and s

enior guard Destinee Rogers received an honorable mention. It was an incredible year overall for UCA athletics.
Shekinna Stricklen – After success on the basketball court at Morrilton High School and the University of Tennessee, the Morrilton native's dream of playing in the WNBA came true in 2012. (October 2012 edition of 501 LIFE)
Bobby Ward – Bobby Ward of Springhill reached the pinnacle of the racing world with his Sprint Car Hall of Fame induction on June 2 in Knoxville, Iowa, capping an incredible nearly 20-year journey in which he earned a whopping 369 wins. (August 2012 edition of 501 LIFE)
Undefeated – The Conway White Lady Cats basketball team won the 7A district tournament, capping off a perfect 25-0 season and extending the team's winning streak to an impressive 46 consecutive games (April 2012 edition of 501 LIFE). The Greenbrier High School football team also posted an impressive undefeated record during the regular season.
State champs – Conway won a pair of titles in the Arkansas state high school golf tournaments. Janet Taylor's Wampus Cats and Lady Cats swept the Class 7A tournaments.

It was the Lady Cats' first state championship.

Summar Roachell, the most decorated high school golfer in the state, added another individual state title to her resume and plans to attend the University of Arkansas in the fall. She was also all-conference, all-state and medalist in the 7A-Central conference tournament.

Parker Rice won the Class 7A boys title and was also all-conference, all-state and 7A-Central medalist. Carson Roberts was all-conference, all-state, conference and state runner-up.

(November 2012 edition of 501 LIFE)
"There were several other sports stories that we especially enjoyed telling in 2012, including the follow-up on Dillion Winfrey who was selected for the first 501 Football Team and is now playing for the UCA Bears" said Keith. (December 2012 edition of 501 LIFE)

"2013 already looks promising and we look forward to sharing those sports stories with readers of 501 Sports Extra and 501 LIFE in the new year."