01 May 2019

Toad Suck Run on Saturday

The Conway Kiwanis Club is making final preparations for this year's Toad Suck Daze 5K/10K and Tadpole Trot scheduled Saturday at John McConnell Stadium at Conway High School.

The 10K will start at 8 a.m., with the 5K to follow. The Tadpole Trot will take place around 9:30 a.m., after most of the 5K/10K participants have finished.

Baptist Health Heart Institute-Conway and Arkansas Cardiology are presenting sponsors again this year for the Toad Suck Daze Run. "We greatly appreciate the support of Baptist Health Heart Institute and Arkansas Cardiology," said Cliff Henry, chairman of the race committee. "Their financial support will help us support local charities in the community."

This year's 10K and 5K will feature something new – a special participation medal.

"This unique medal will help commemorate participation in the Toad Suck Daze Run, an event that is celebrating its 36th year of helping local organizations," said Henry.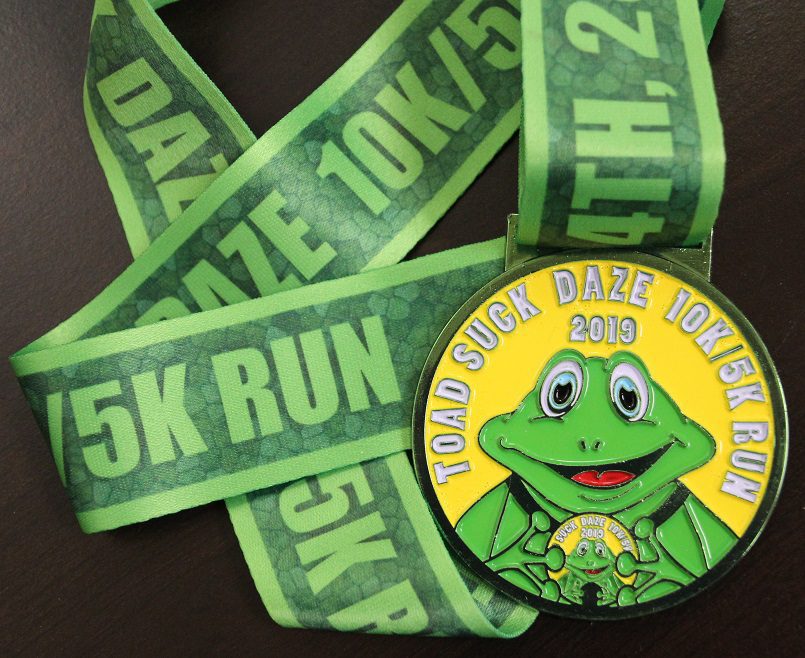 Over the years, the race has raised more than $400,000 for non-profit organizations. Proceeds from this year's race will benefit a variety of local non-profits:
Boys and Girls Club of Faulkner County
Community Connections
Community Service Inc.
Compass Academy
HAVEN shelter for girls
Main Stage EdUCAtion Program
"Baptist Health is committed to a healthier Arkansas, and it begins with providing opportunities that make it easier for people to live healthier lifestyles," said Tim Bowen, vice-president and administrator of Baptist Health Medical Center-Conway. "Having a fun race can be a great way to introduce people to exercise and help wonderful causes at the same time. Baptist Health wants to be the state's leading resource in advocating for healthier communities and wellness programs and being a part of the Toad Suck Daze Run is certainly right in line with our efforts."
Dr. Kathryn Nance with the UAMS Baptist Health Orthopaedic Clinic-Conway will be on site 6:30 to 8 a.m. Saturday to answer and access any/all sport related questions/injuries. She is a family medicine physician who specializes in nonsurgical sports and musculoskeletal medicine. For more information, visit OrthoCareConway.com.
"Baptist Health Heart Institute and Arkansas Cardiology are committed to keeping you heart-healthy," said Parker Norris, MD, cardiologist with Arkansas Cardiology. "Baptist Health's heart specialists take every single patient to heart and have capable and compassionate physicians ready to provide you with the care you need and deserve. Having an active lifestyle and eating well are two main components of keeping your heart healthy."
Online registration for the Toad Suck Daze Run ends at noon Friday. Online and mail registrants can pick up a racing packet, number and timing chip from 4 to 7 p.m. Thursday, May 2, and Friday, May 3, at Baptist Health Conway hospital or the morning of the race at the fieldhouse at John McConnell Stadium.
Chip timing technology will be used in the run. Participants must wear a race chip to get an official time. Participants registering after 7:30 a.m. on race day will not receive a timing chip and will not be timed.
Entry fee for the 10K and 5K events is $30 until noon Friday, May 3, when it goes up to $35. 5K and 10K entrants receive a technical shirt for those who pre-register. The Tadpole Trot registration is $10, which includes a cotton T-shirt.
Free refreshments will be provided for all entrants. The participation medal will be presented to the first 1,000 finishers in the 5K and 10K.
Any additional shirts can be purchased on the day of the race after 8 a.m. at the field house.
The event is supported by the Conway Running Club and Conway Convention & Visitors Bureau.
For more information or to register for the Toad Suck Daze Run, visit toadsuckrun.com.