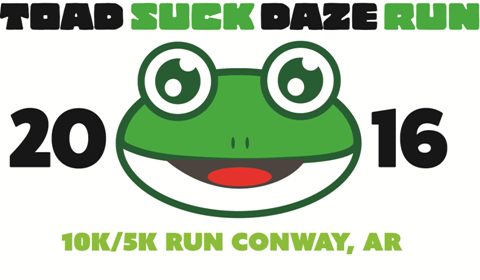 27 Apr 2016

Toad Suck Daze Run scheduled for April 30

Runners and walkers of all ages are invited to participate in the 33rd annual Toad Suck Daze 5K/10K Run on Saturday at John McConnell Stadium at Conway High School.


Online registration ends at noon Friday.


Proceeds from the race will benefit a variety of local non-profits – the Boys and Girls Club of Faulkner County, the UCA Main Stage Education Series, Community Connections, Conway High Athletic Department, Conway Junior High backpack program, HAVEN (Help for Abuse Victims in Emergency Need) and Miracle League Conway Braves Field.
Over the years, the race has raised more than $370,000 for local charities.


The event includes a 10K Run, 5K Run, 5K Fun Walk and Tadpole Trot races. The school with the largest percentage of participants (based on enrollment) in the Tadpole Trot will be presented with a traveling trophy and $200 for its physical education department.


With rain in the forecast for Saturday, organizers are mindful of the safety of participants. "Unfortunately, weather is the least controllable part of our event. Weather conditions will be monitored on race morning for precipitation, wind, lightning and extreme temperature," said committee chairman Cliff Henry. "If weather conditions are unfavorable at race time, we will delay the start time to allow race conditions to improve. However, due to other factors, we cannot delay indefinitely, in which case the event would be cancelled."


Henry added that as a general rule, the event will proceed under light or moderate precipitation. "However, any observed lightning will result in a 15-minute delay from the most recent observed lightning. Race staff will also monitor local weather radar for inclement weather which may be moving into the area."


Online and mail registrants can pick up a racing packet, number and timing chip from 4 to 7 p.m. Thursday and Friday at The Sporty Runner in Downtown Conway or the morning of the race at the fieldhouse at John McConnell Stadium.


Chip timing technology will be used in the run. Participants must wear a race chip to get an official time. Participants registering after 7:30 a.m. on race day will not receive a timing chip and will not be timed.


The Tadpole Trot starts on the Conway High School track about 10 a.m. (after the 5K and 10K events) and includes races for children ages 4-12. Kids ages 4 through 8 will run a half lap, kids ages 9-10 will run one lap, and ages 11-12 will run two laps (one-half mile). The first, second and third place finishers in each Tadpole Trot receive trophies and all other entrants receive a ribbon.


Entry fee for the 10K and 5K events is $25, which includes a technical shirt for those who pre-register. The Tadpole Trot registration is $10 which includes a cotton T-shirt. Free refreshments will be provided for all entrants.


Any additional shirts can be purchased on the day of the race after 8 a.m. at the field house.


The Conway Kiwanis Club is the main organizer of the event, which is supported by the Conway Running Club and Conway Convention & Visitors Bureau.


Major sponsors are TLC Pediatrics, AR Care, Academy Sports, Arkansas Eye Care Group, Arvest, Conway Corporation, Conway Regional Health System, Kohl's, Nabholz Client Services, Regions, Smith Ford, The Sporty Runner and 501 LIFE.


For more information or to register, visit toadsuckrun.com.