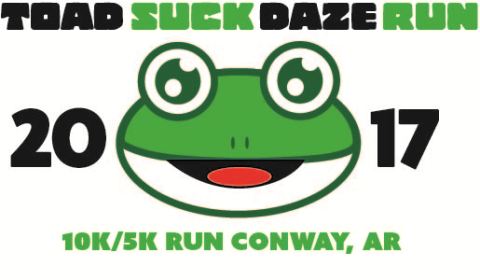 19 Apr 2017

Toad Suck Daze Run features new courses

The 34th annual Toad Suck Daze 5K/10K Run, planned Saturday, May 6, will feature new race courses. The event begins and ends at John McConnell Stadium at Conway High School.


Over the years, the race has raised nearly $390,000 for local charities. Proceeds from this year's race will benefit a variety of local non-profits – the Boys and Girls Club of Faulkner County, Conway Athletics, Help for Abuse Victims in Emergency Need (HAVEN) and Miracle League Braves Field.


The event includes a 10K Run, 5K Run, 5K Fun Walk and Tadpole Trot races. The 10K is an RRCA Arkansas Grand Prix race.


Online registration ends at noon Friday, May 5. Online and mail registrants can pick up a racing packet, number and timing chip from 4 to 7 p.m. Thursday, May 4, and Friday, May 5, at The Sporty Runner in Downtown Conway or the morning of the race at the fieldhouse at John McConnell Stadium.


Chip timing technology will be used in the run. Participants must wear a race chip to get an official time. Participants registering after 7:30 a.m. on race day will not receive a timing chip and will not be timed.


The Tadpole Trot starts on the Conway High School track about 9:45 a.m. (after the 5K and 10K events) and includes races for children ages 4-12. Kids ages 4 through 8 will run a half lap, ages 9-10 will run one lap, and ages 11-12 will run two laps (one-half mile). The first, second and third place finishers in each Tadpole Trot receive trophies and all other entrants receive a ribbon.


The school with the largest percentage of registrants (based on enrollment) in the Tadpole Trot will be presented with a traveling trophy and $200 for its physical education department.


Entry fee for the 10K and 5K events is $25 until noon Friday, May 5, when it goes up to $30. 5K and 10K entrants receive a technical shirt for those who pre-register. The Tadpole Trot registration is $10, which includes a cotton T-shirt. Free refreshments will be provided for all entrants.


Any additional shirts can be purchased on the day of the race after 8 a.m. at the field house.


The Conway Kiwanis Club is the main organizer of the event, which is supported by the Conway Running Club and Conway Convention & Visitors Bureau and sanctioned by the Arkansas chapter of the Road Runners Club of America (RRCA).


Major sponsors are Kohl's, TLC Pediatrics, Baptist Health Medical Center-Conway, Arkansas Eye Care Group, Arvest, Conway Corporation, Nabholz Client Services, Regions, Smith Ford and The Sporty Runner.


The Toad Suck 10K was started by the Conway Kiwanis Club in 1982 and held in conjunction with the Toad Suck Daze Festival. In 1984, First National Bank of Conway (now Regions) began a race in memory of a fellow employee, Randy Baker, who died of cancer. The Randy Baker 8K was conducted for two years, with proceeds benefiting the American Cancer Society. In 1986, the Conway Kiwanis Club approached Regions Bank, and the two races were combined. The Toad Suck Daze Run continues to be held in memory of Randy Baker, with proceeds benefiting non-profit agencies in the Faulkner County community.


The Toad Suck Daze Run partners with Literacy Action of Central Arkansas, which sponsors the Tour de Toad bicycle event, which is also held on Saturday, May 6.

Participants who complete the Toad Suck Daze Run (5K or 10K) and Tour de Toad receive a custom Iron Toad medal.


For more information or to register for the Toad Suck Daze Run, visit toadsuckrun.com. For information on Tour de Toad, visit literacyactionar.org/events/tour-de-toad/.