31 Mar 2022

To paint or not to paint

By Donna Benton

Human courage: the ability to summon strength and bravery to face a task that scares the noodles out of you. Like finally telling the pigtailed girl who sits behind you that you think she's cute, like spring break, jumping off of the biggest bluff into Greers Ferry Lake, and like painting your brick house! You know the butterflies, the what-if's and the second thoughts. You will have to run the gauntlet of the naysayers, hearing all their well-intentioned advice. "Brick is maintenance-free for life, you will be repainting?" "That paint will peel!" "It's just a trend!" "How will you ever decide on a color?" and "What if you hate it!!"
Paint is by far the easiest, least expensive, and most impactful update that you can do to your home, inside or out. Inside the house, you can use paint with wild abandon. If the purple doesn't work, paint it pink! On the outside however, painting the brick is just like jumping off the bluff; there is a point of no return. It's probably not impossible to un-paint your house, but it's sure not a task to be taken lightly. Painting brick is not the right decision for everyone but it might be right for you if you dare.
If you are thinking about painting your brick, do your homework. The internet is full of examples of painted brick homes; many beautiful and classic and a few cringe-worthy ones as well. It's a good idea to play it safe and go for a tried and true, traditional style rather than exercising your creativity, unless you thrive on being the talk of the neighborhood. Study the painted homes of your predecessors and decide what you like and don't like and what will and won't work on your home. Pay attention to the things that you aren't going to change that will affect the look, like the style of your home, windows and trim color. Will all that work well with your new paint? 
One rule of thumb I stand by when planning exteriors is to take it easy on the colors and materials. With siding, brick, stone, soffit, windows, shutters, and roof, it's easy to get too many things going on at once. Painted brick can help you calm down an exterior that is too busy.
While it is probably true that painted brick means a little more maintenance over the life of your home, painted brick can last a long time if properly prepped and applied. There are other techniques besides simply painting, like German Schmear or whitewashing that give brick an authentic aged appearance and a painted look. And if you want to get the look of painted brick in a new construction, there are lots of new options in white or monochromatic colored brick that can give you the look without painting. And finally, if you get up the nerve to paint, don't paint a single brick until you paint a great big sample board with the color you have chosen; I'm talking about a sheet of plywood. Lean it up against the house and look at it for a few days. Morning, afternoon, evening, and on sunny days and cloudy days. You can even look at it in the dark if you want to. If you still like it, then paint away!
This West Conway home has some amazing giant painted columns, but those columns stole the show from the great stacked porches and the rest of the stately home. Once the home was painted, the columns become understated and the whole home becomes the focus instead of the columns. A whole new level of curb appeal, I think. Extra care was taken to make sure the right white was chosen, that it didn't go "pink" or "blue" in certain light and that it worked well with the other elements of the house. New shutters and porch swings were painted light shades of grays and blues to give a subtle detail without overwhelming the look.
There are lots of things to be scared of in this world, like snakes, the Fouke Monster, and that little pigtailed girl, but painting your home shouldn't be so frightening. If you have been dreaming about painting your brick but waking up in a cold sweat, thinking you might make the wrong decision, maybe these tips will help you decide if painting is for you.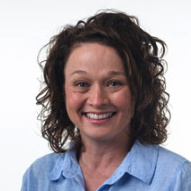 Latest posts by Donna Benton
(see all)