29 Oct 2020

Tips and traditions for a terrific Thanksgiving dinner

by Donna Benton

Every Thanksgiving at my mother-in-law's house, after the table is set and Grandad blesses the food, Ma calls someone across the table and says, "Why don't you tell us something that you are thankful for?" It wasn't that bad when there were just a few of us, but now our families have grown and we are packed much tighter around the table. We take turns declaring our thankfulness while the brown-and-serve rolls get crusty and the giblet gravy starts to skim over. But I would never change it. It's what we do at Ma's house on Thanksgiving.

The holidays are about traditions and I love them. Don't mess with my traditions! Some of them are ironclad, passed down through the generations, but I'm always open to try something new, too, so I thought I might share some of my Thanksgiving traditions and holiday tips with you. If you see something you think you might like, feel free to borrow it and make it your own.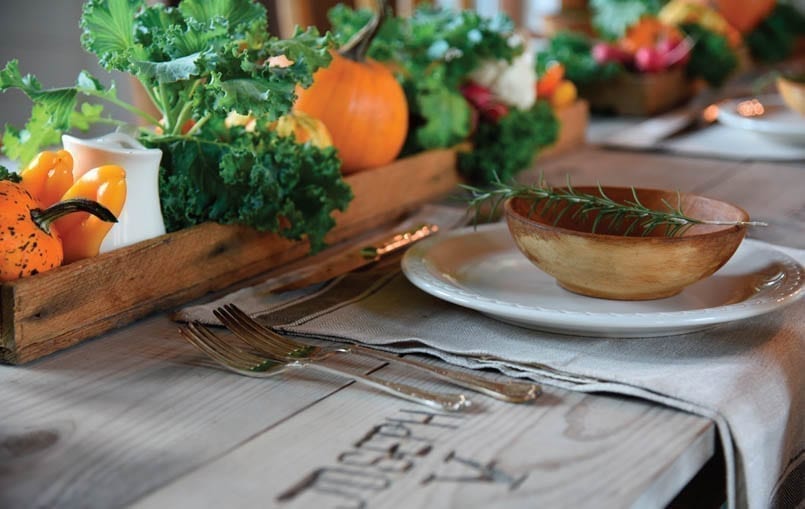 The main event
Always start defrosting your turkey on Tuesday. I always seem to forget this — surely I am not the only one! That tip is not really on the list, but if the turkey is still frozen, the rest of these great tips and traditions will probably go unappreciated by your guests, so don't forget to defrost the turkey!
Make a  supermarket centerpiece
My family might argue that the best way to decorate a holiday table is with a turkey and a bowl of mashed potatoes, but my family also knows I am all about the flowers. The only problem is that Thanksgiving usually comes about the same time as the first frost and all the buds and blooms have gone away. Here is an easy tip to make a fabulous table centerpiece that might even upstage the roasted bird! You are planning to go to the grocery store anyway, right? While you are in the produce section, pick out a colorful array of hardy veggies and if you can find living greens, get them too. Add to your basket peppers in oranges, greens and golds, and some squash and eggplants. Root veggies hold up extra well and look great. Throw in a handful of nuts and some colorful leaves from the yard and maybe some recycled pumpkins from that fading Halloween display. Arrange them in a rustic bowl or container, and you have an absolute bountiful harvest right there on your table. Enjoy them for a few days, then eat it all!
Set the table with Grandma's china
I always use my grandmother's recipe for sweet potatoes and it wouldn't do if it was served in anything other than her old, ironstone dish. She's not around anymore to host the family gatherings, but I know it would make her smile that her sweet potatoes are still being served in that worn dish. And I always make a big deal out of it, because I love the idea that after I'm gone, someone might be using my old recipes and dishes and remembering all the great times and love we shared around the kitchen and the table.
Go pick a Christmas tree
The day after Thanksgiving, our family goes to pick-out a Christmas tree. It seems to me like a much more wholesome way to kick off the next season than Black Friday shopping. If you haven't tried a visit to a local Christmas tree farm, I highly recommend it. Put on your boots and hat, pack a thermos of your favorite hot beverage and make an event of it!
Take a hike
Lord knows you need to work-off some of that turkey and dressing, and Black Friday shopping with pumpkin latte in your hand isn't going to do it. At Thanksgiving, our forests still have some of their fall color and it's the perfect time to get out and take a stroll through the woods with your family. We try to do it every year.
Share
Times are kind of strange these days and we have all had to adapt to a new normal. I pray that we soon get back to a time where we can see each other's smiling faces at the grocery store, and handshakes and hugs are shared without a second thought. But I hope that it remains instilled in us that friends and fellowship should never be taken for granted. I hope that you get to spend your holidays with your loved ones, but I know that there will be those who, because of travel restrictions or for health precautions, might be spending the holidays away from their families. I ask you to think about those around you and to reach out and find these folks that might be spending the holidays alone. I encourage you to share with them, even if it is just a care package of turkey and dressing, or a socially distant, front porch visit. This is a great year to be extra thankful for health, family and good friends, whether they are around your table or across the country. Happy Thanksgiving!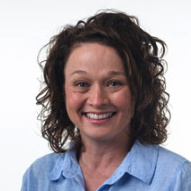 Latest posts by Donna Benton
(see all)