15 Jun

Three Harding athletes honored for academics

SEARCY — Harding tennis players Allison Carpenter and Lindy Carpenter and golfer Abbey Bryan earned CoSIDA At-Large Academic All-America honors Wednesday. Allison Carpenter was on the First Team, Lindy Carpenter was on the Second Team, and Bryan was on the Third Team.

All nominees for this award must have reached sophomore status, carry a 3.30 cumulative GPA and boast noteworthy academic and athletic achievements.

The at-large category for the CoSIDA Academic All-America women's program includes the sports of beach volleyball, bowling, crew/rowing, golf, gymnastics, ice hockey, lacrosse, rifle, skiing, swimming, tennis and water polo.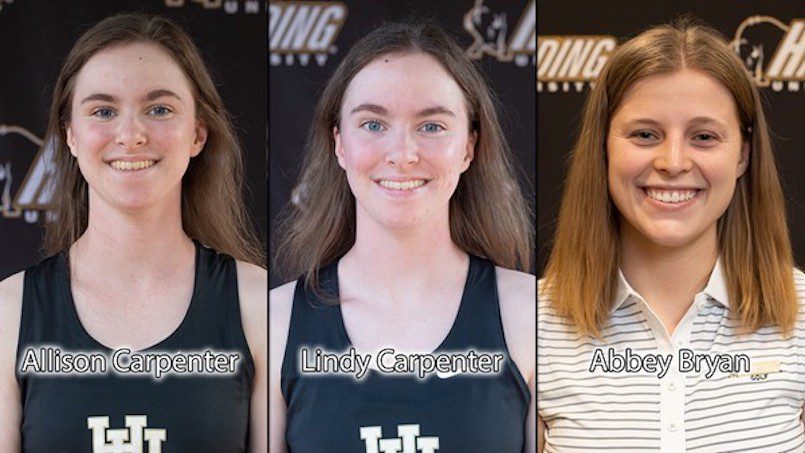 Allison Carpenter, a native of New Braunfels, Texas, graduated in May with a Bachelor of Arts degree in integrated marketing communication. She had a perfect 4.00 GPA in her undergraduate work. Allison is the 11th Harding female to earn First Team honors.
Allison had an 18-9 singles record in 2021-22 and an 18-14 doubles record. In her career, Allison was 64-26 in singles and 54-36 in doubles. Her 64 singles wins rank 13th all-time at Harding and her 54 doubles wins rank 18th.
Allison earned Third Team Academic All-America last year. With her honor this season, she becomes the first Harding tennis player ever to earn multiple Academic All-America awards. She is the first Harding tennis player to earn First Team Academic All-America since Gina Cielo in 2012.
Lindy Carpenter, also of New Braunfels, Texas, graduated in May with a Bachelor of Business Administration in management. She had a perfect 4.00 GPA.
Lindy had a 21-12 singles record and 21-13 doubles mark in 2021-22. In her career, Lindy was 65-34 in singles and 61-34 in doubles. She is tied for 11th in career singles wins and ninth in career doubles victories.
Lindy earned Second Team All-GAC in 2022 and was a First Team All-GAC honoree in 2019. She has twice earned GAC Elite Scholar Athlete honors and is a three-time ITA Scholar Athlete.
The awards for Allison and Lindy mark the first time Harding women's tennis had two Academic All-Americans in the same season.
Bryan is a native of Big Spring, Texas, and graduated in May with a Bachelor of Science in biomedical engineering. She had a 4.00 GPA.
Abbey had a 78.8 stroke average over 21 rounds in 2021-22. She ranks sixth all-time at Harding with an 81.0 career stroke average.
Bryan became the third Harding women's golfer to earn Academic All-America, joining Taren Swindle (Third Team, 2008) and Brooklyn Terry (Third Team, 2019).
Harding has four Academic All-Americans during the 2021-22 school year. Cody Smith of the baseball team is the fourth. With Wednesday's three honors, Harding has received 91 Academic All-America citations since football's Jeff Earnhart was Harding's first honoree in 1978.