22 Mar

Think Art Project: Searcy's Art Alley among creative spaces

Story and photos
by Megan Stroud

Turning the corner from the Quattlebaum Music Center mural and walking past the White County Courthouse in Downtown Searcy, a small glimpse of a red arrow peaks out of a public alley. Strums from a guitar become audible. Arch Avenue in downtown is blocked for pedestrian traffic only. Booths are set up in the street and live artists are painting on the brick walls along the alley, sectioned off all the way to Race Street like individual canvases.

Art Alley, the venue for the First Friday Art Walk, an event with live music and painting, has become a creative outlet for about 80 artists in the Searcy and White County community, but this is only one of the successes of the Think Art Project. 

The Think Art Project began when Mat Faulkner, owner of Think Idea Studio, visited Philadelphia, a city with mandated funding for art installations and creative spaces. With existing relationships through the studio and his involvement in the community with organizations like the Searcy Regional Economic Development Corporation (SREDC), Faulkner created a process to accelerate the creation of art installations and creative spaces in Searcy under an existing non-profit, the Searcy Arts Council.

"My thinking behind it was, that if we already had all the right partnerships in place with city organizations, Parks and Recreation, code enforcement, Main Street Searcy, all the players that would have to put their thumbprint on it as far as approval goes, then it would help the projects go quicker," Faulkner said.

Artists, art educators, property owners and community members got involved, and the goals of the organizations were centered on increasing the quality of life and tourism through rehabbing eye sores while educating and inspiring young artists through interactions with other amateurs and professionals.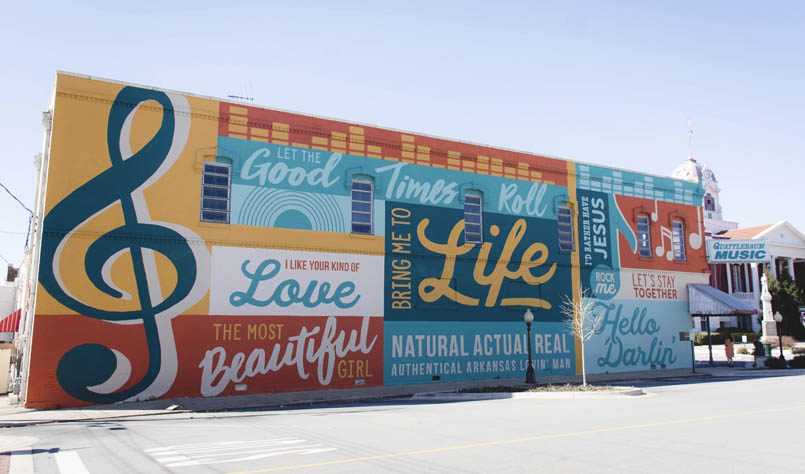 Although the first project was a mural, spurring on the creation of many other murals in Searcy, murals are not the only goal of the Think Art Project. 
"Even though murals have taken off and are easier to install, the whole goal is not just to do paintings, but to do sculptures and lighting features and water features and landscaping," Faulkner said. "Just those cost more and take a little bit more time." 
Artists, both amateur and professional, are able to compete by submitting designs for any given project through a blind review process. Project designs are selected carefully on the basis of historical significance, inspiration, diversity, positivity and interactivity. 
"There are things that can be done that can enhance the community and raise quality of life that is not your traditional economic development," Faulkner said.  
The first undertaking by the Think Art Project was a mural on the wall of Quattlebaum Music Center in Downtown Searcy. After 17 submissions, artist Tara Peacock's design, "Natural Notes," was chosen. Named for the Natural State, the piece features lyrics and song titles by musicians native to Arkansas.
In June 2018, the Think Art Project officially nestled one of its most popular, tourism-drawing projects into the growing arts district on Arch Street. The committee decided to take a public alley between Arch Avenue and Race Street to create Art Alley. The community helped clean the space, artists began to paint and the city stepped in by paving the walkway. 
Casey McLeod, Think Art Committee member and manager of Art Alley, owns a pharmacy with her husband and describes herself as an amateur artist. As one of the first artists to paint in the alley, McLeod has a passion for maintaining and promoting Art Alley and its events, including the First Friday Art Walk each month. She also believes strongly in the ties between economic development and creative place making to the overall morale of a community.  
"The concept of creative place making is really new, but they're finding there is a connection and a value to having spaces that people can go and be together within a community, especially related to the arts," McLeod said. 
With 80 artists involved in Art Alley, the paintings are always changing. An artist is required to change their display every three months or offer their spot to another artist. The only original mural remaining belongs to local artist and Think Art Project committee member Jason White, who has painted murals nationally and across Arkansas and continues to be involved in the arts movement happening in his hometown. Apart from the Think Art Project, Jason has also been commissioned to design and create several murals in Searcy for businesses, including Wild Sweet Williams, The Natural Food Store and Savor + Sip. 
"Art is an amazing way to communicate," White said. "We have seen it turn around the overall view of our community from negative to positive. People are excited about Searcy and what it has to offer and art helped get that conversation started."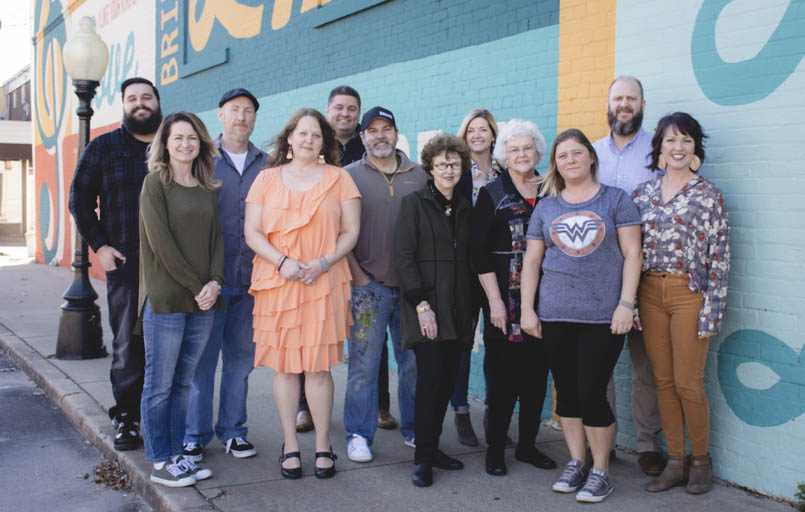 As Art Alley has quickly become a popular spot for locals and visitors, future plans for the alley include cleaning up the nook in the middle of the alley while also featuring other temporary art installations.
"It has been really exciting for me because I have felt like, historically, Searcy has been a little bit of a divided community, and so just bringing the arts and creativity into the downtown space into something that used to be just a dingy old alley has brought all kinds of people together," McLeod said. "It's created for me a sense of community that I haven't felt, and I have lived here since 1994 when I came here as a freshman at Harding." 
In addition to Art Alley, other projects the group has completed include four painted public basketball courts and four painted pianos. The health-centered basketball courts were designed and created by professional artists in partnership with local elementary schools, with the health theme determined by sponsor Unity Health. 
After seeing painted pianos on social media, Faulkner posted the idea on social media and, before he knew it, had been offered nearly 20 free pianos. After picking up four, they were placed around town for artists to paint and people in the community to play. One piano is at The Artistry, one is at Harding Academy and two, including one that has not yet been painted, are at ACT II. 
Fundraising is currently under way for a multi-purpose stage in Daily Citizens Park, the original site of the Daily Citizen newspaper and a Living Alley mimicking the concept of Art Alley with artistic creations using living plants. Living Alley will feature native plants as well as pollinator plants and a water feature to keep the entire installment maintained.  
The Think Art Project has impacted the community by giving artists a way to creatively express themselves while creating momentum in the community. 
"One of the things about small towns, not just in Searcy, but all across America, is they don't really necessarily have a lot of ingrained culture into their small town, and incorporating artwork is an easy way to express yourself, tell your story as a community and involve other people," Faulkner said. "So it has definitely heightened the culture of Searcy as well as given artists a way to express themselves in a creative way. As far as quality of life goes, it has created a momentum and excitement. You can see things changing and when you see things changing, you feel like there is progress being made and then people get really excited about that which usually inspires, spurs more progress." 
Searcy recently competed and won a contest to be featured on season four of the Small Business Revolution Main Street on Hulu sponsored by Deluxe Corporation. Faulkner and other members of the Think Art Project committee feel the community was more prepared to rally together because of recent growth in the downtown area.
"Leading up to this whole revolution TV show, between the art projects and then the community events like Beats and Eats, I think that has just been a perfect segue to this opportunity," Faulkner said. "A lot of the destinations that the production crew went to [in Searcy] were Think Art Project destinations. Having events like Beats and Eats has gotten the community used to coming together so whenever we threw the big events for the production crew, it was just like another Beats and Eats. Everybody kind of knew what to do. So yeah, I think it just primed us for this opportunity."