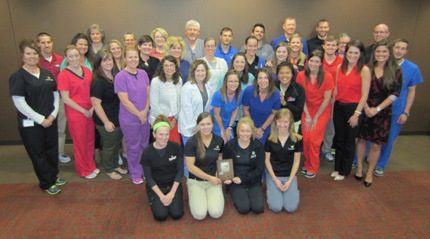 20 Apr 2015

Therapy & Rehab Solutions recognized for fitness focus

Posted at 12:35 PMh

in

News

Therapy & Rehab Solutions has been recognized by the American Heart Association as a Gold Level Fit-Friendly Worksite, noted for their commitment to improving the overall well-being of their employees.

This recognition program is intended to be a catalyst for positive change in the workplace and is awarded to companies who strive to make health and wellness a top priority.


Therapy and Rehab Solutions began its emphasis on workplace wellness programming as early as 2007, but as time passed, unfortunately the emphasis waned. After local employer Kimberly-Clark solicited the help on Therapy & Rehab Solutions to facilitate safety services for its employees, Therapy & Rehab Solutions recognized that it could not effectively preach safety if it were not instilling healthy habits with its own employees. As a result, the wellness team became a sister company, TRS|Wellness, who has provided safety and wellness services at Kimberly-Clark since 2012.


In August 2013, TRS|Wellness came to the aid of its parent company's employees, customizing a wellness program specifically for their needs.


The program started with a comprehensive testing of all participants, including biometric data, functional strength and flexibility. The data was reviewed with each employee and everyone was challenged to develop their own goal. The first 12 weeks of the program included fitbit distribution, weekly coaching sessions, food journal reviews and regular educational sessions. After three months, the employees transitioned from weekly coaching to monthly wellness coaching, unless they preferred to continue with weekly coaching.

Groups of employees have even made a habit of gathering together to walk at lunch and even do yoga classes.


Therapy & Rehab Solutions also strives to only serve healthy food at all company meetings and events, and it has become a company faux pas to bring a greasy fast-food lunch to meetings.


The TRS|Wellness team has been a tremendous resource in generating accountability and engagement. Despite Therapy & Rehab Solutions' background as a healthcare service organization, it also has struggled with staying the course throughout the years. "The regular meetings with wellness coaches are the key to keeping everyone accountable and engaged in their health. We want our employees to be happy and healthy so they can continue delivering excellent patient experiences each and every day," said Danielle Burnell, chief financial officer and director of human resources for Therapy & Rehab Solutions. "In addition, we have had zero rate increases in our health insurance since we implemented our comprehensive wellness plan. We are honored that our efforts have been recognized by the American Heart Association, and we hope that our efforts set an example for other Central Arkansas employers."


As a fit-friendly worksite, Therapy and Rehab Solutions is dedicated to the vision of improving the health and wellness of employees, and their results speak for themselves. The company's employees are well below the national average for obesity, heart disease, high cholesterol, diabetes and body fat percentage, while being exactly in line with the average age.


Sandy Greeson, director of corporate and industrial safety for TRS|Wellness, loves to say, "A healthy employee is a safe and productive employee…"


American employers are losing an estimated $225.8 billion a year because of healthcare expenses and health-related losses in productivity, and those numbers are rising. Many American adults spend most of their waking hours at sedentary jobs. Their lack of regular physical activity raises their risk for a host of medical problems, such as obesity, high blood pressure and diabetes. Employers face $12.7 billion in annual medical expenses due to obesity alone.


The American Heart Association is working to change corporate cultures by motivating employees to start walking, which has the lowest dropout rate of any physical activity. The Fit-Friendly Worksites Program offers a unique, easy-to-implement opportunity for corporations to increase employees' physical activity, which will help improve their health – and their employers' bottom line.


For more information about the Fit-Friendly Worksites program and how it is helping to improve the health of Americans by focusing on an activity that is convenient, free and easy, visit startwalkingnow.org.