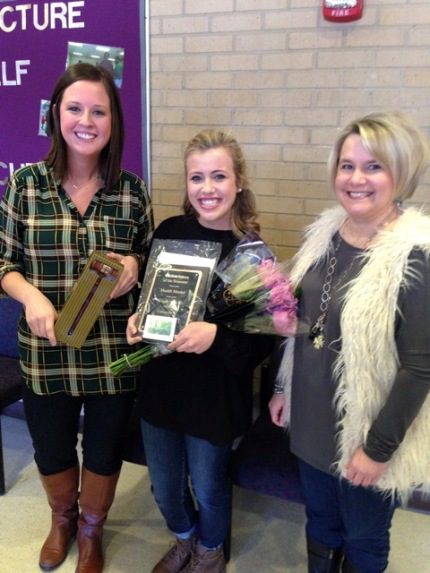 07 Dec 2015

Theodore Jones teachers recognized by UCA group

Posted at 11:21 AMh

in

News

Theodore Jones Elementary School received a "double blessing" as two staff members were honored by the Pi Beta Chapter of Kappa Delta Pi International Honor Society in Education at the University of Central Arkansas.


Maddi Mosler was awarded Student Intern of the Semester and Lindsey Jones was awarded Mentor Teacher of the Semester. This has only happened one other time, that a Mentor and Intern team have both been awarded at the same time.


Jones is in her sixth year of teaching at Theodore Jones Elementary School. Her principal said she and Mosler were a "dream team" from the start.


"From the first day this dynamic duo taught together, great things happened for our kids. Their passion, knowledge and dedication helped to motivate students and make them excited about school and learning," said Dr. Tammy Woosley. "We are very proud of Lindsey and Maddi both."


Jones said she was truly humbled by the award but was most excited for her student intern, whom she says has tremendous potential.

"I was impressed with Maddi from day one. Her continued eagerness to learn, her positive attitude and her sunny disposition have already set her up for a successful career. She loved each child and worked daily to strengthen her relationships with my students. I hope my little girl can be in her class someday!"

Mosler had simple, yet perhaps the highest praise for her mentor teacher.

"I truly feel like I have become a teacher this semester and I would not have made it without Ms. Jones."

Jones and Mosler were honored at a ceremony at UCA. They will be formally recognized at the College of Education's Pinning Ceremony in the spring.