20 Jul 2019

The Russian Honey Cake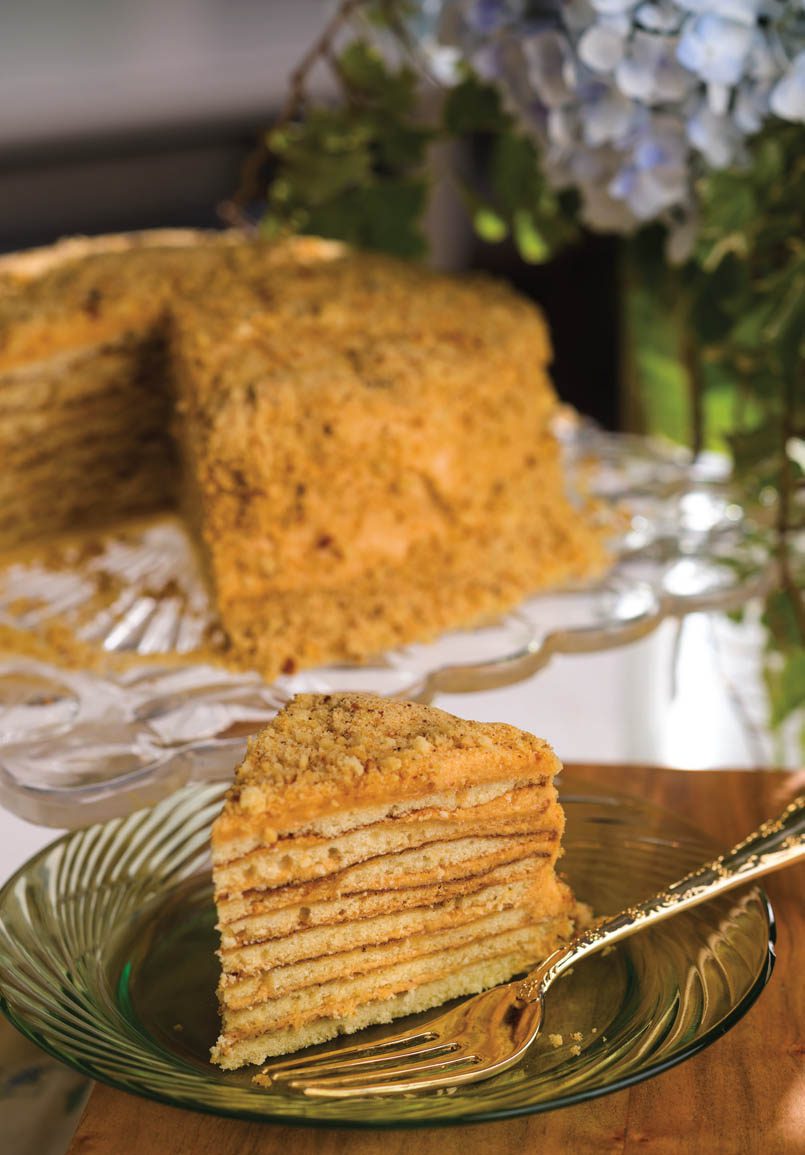 by Don Bingham
On a recent trip to Houston, Texas, our daughter, Janna Williams, took us to a unique and delightful bakery called Nyam Nyam Café. Janna would not steer us in the wrong direction, and this unassuming deli-looking shop was nestled in a "strip mall" not far from one of the greatest outlet malls ever, the Houston Premium Outlet Mall. 
We all ordered at the counter, and as we ordered, this amazing production that resembled a cake immediately caught my eye! (Imagine that!) Upon inquiry to the Russian owner, the journey began for my education in the Russian Honey Cake. Part of this education was to learn that making this cake is complicated, can be intimidating, is not for the faint-of-heart baker, but it is a trophy to add to one's collection of specialty items from one's kitchen!
There are many versions of this cake — some more difficult than others — but the energy and time is well worth the adventure! I did my cake in stages, doing the Mise en place first (setting up everything needed), then baking the 12 layers of cake. I then allowed time for recovery from the stress before moving on to the frosting.
This cake has been termed Smetannik — a honey cake with sour cream layers. Medovnik, sometimes called Medoviy Tort, is basically the same thing, but frosting can be done with sour cream and sweetened condensed milk for an alternative.  
The cake is a journey; the frosting is a "piece of cake"—– quickly and easily made. It takes a bit of patience before the final stage of coating the cake with crumbs of leftover cake trimmings!
The layers of cake have also been called "cookies" because their texture is thin and a bit heavier than cake, but the transformation takes place when the frosting begins to soak into these heavenly layers, and the layers and layers of cookies turn into luscious cake!
This recipe is eight paper-thin cake layers with a creamy, slightly tangy filling and coating. The cake will look amazing in the fridge for five whole days before it is gone!
Here is the recipe I used:
Cake:
1/2 cup honey
1/2 cup sugar
1/2 cup unsalted butter
1 teaspoon baking soda
3 large eggs
1/4 teaspoon fine sea salt or table salt
1 teaspoon vanilla extract
3 1/2 cups all-purpose flour, divided
Frosting:
There are many different versions of frosting for this cake, some more simple than others. I combined a 32-ounce container of sour cream and 1/2 cup of sweetened condensed milk. I am giving you another recipe for a simple frosting. You will find far more complicated ones available — they are all equally delicious!
32-ounce carton of sour cream
2 cups powdered sugar
1 teaspoon lemon juice
Heat the oven to 350 degrees. Get two baking sheets or round pizza pans and prepare sheets of parchment paper large enough to have a 9-inch circle on them. (I used nonstick cake pans since I had 12 or more of these.)
In a medium saucepan, combine the sugar, honey and butter over medium heat. Once simmering, cook for 3-4 minutes (no specific temperature needed); it should get a faint shade darker and smell wonderful. Whisk in baking soda.
Remove from heat and set aside 2-3 minutes; it does not have to cool completely. Lightly beat the eggs in a spouted measuring cup. Take a deep breath. Whisking the honey mixture vigorously in the pot the whole time, drizzle the thinnest stream of the eggs into the honey mixture; do not stop mixing.  Continue until all the eggs are thoroughly whisked in.
Stir in salt and vanilla and three cups of the flour with a spoon. The dough is going to be thick like bread.  Stir in the last 1/2 cup flour, 1/4 cup at a time.
Lightly flour counter and divide the still warm dough into eight even pieces. Roll the first one between two sheets of wax or parchment paper; roll to a slightly bigger than 9-inch round. Trim off the excess and save for toasting and coating the cake at a later time. Dock the layers with a fork tine. Slide the 9-inch rounds onto a baking sheet and bake
for 6-7 minutes; they should feel firm. Slide cookie onto a
cooling rack and continue baking until all layers are done.
Whisk frosting ingredients together in a large bowl. Once cookies are cool, place a dab of the sour cream mixture on your cake plate and place the first cookie on top of it. Scoop 3/4 cup of the sour cream mixture on each layer and spread from the center. Stack layers, repeating frosting on each layer; the sour cream is going to spill out and down the sides of the cake. Nudge the layers into place if they slide during the frosting process. Let this chill overnight.  
The next day, grind the reserved trimmings and scraps in a blender. Toast them in an oven, and when cooled, spread them in a thin layer over top and sides of cake. 
Be prepared to be dazzled — this cake is worth the effort! For additional training and information on the Russian Honey Cake, I found amazing stories on the internet! Bon appétit!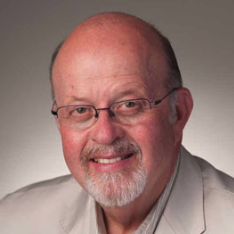 Latest posts by Don Bingham
(see all)