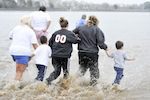 18 Apr

'The Plunge'

photos and story
by Anthony Byrnes

Giving hearts and willing bodies recently gathered at Beaverfork Lake in Conway to participate in this year's Polar Bear Plunge to raise money for Arkansas Special Olympics.

Teams and individuals gathered at 10 a.m. Saturday, March 5, to register, bid on baked goods and participate in an awards ceremony. At 11 o'clock, those brave enough ran into the freezing cold waters of Beaverfork.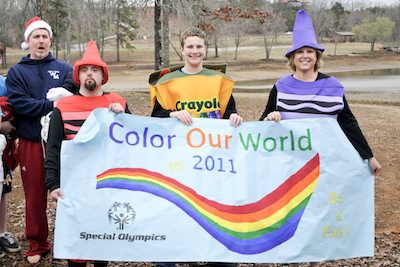 Ty Ledbetter and Robert Jones were among those recognized for their fundraising efforts.

The mission of the Arkansas Special Olympics is to provide year-round sports training and athletic competition in a variety of Olympic type sports for all children and adults with intellectual disabilities, giving them continuing opportunities to develop physical fitness, demonstrate courage, experience joy and participate in a sharing of gifts, skills and friendship with their families, other Special Olympics athletes and the community. Participants raised about $8,000.