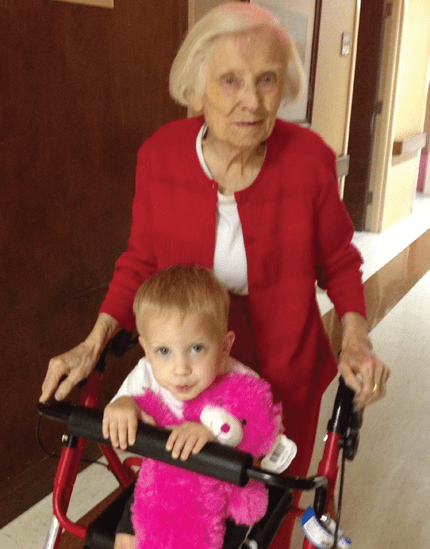 19 Feb 2015

The little red walker

Posted at 3:46 PM

in

Faith

by Maggie Chandler


Moses used his shepherd's rod to part the Red Sea, Peter used his fishing boat as a temporary pulpit and Elizabeth Kinley, who passed away a year ago at Heritage Living Center at the age of 91, used her little red walker to show us what God is like.

Her walker was never a sign of weakness, but of strength. It wasn't used just to support her, but to help others. For our family, that little red walker, which took center stage at her memorial service, was a symbol of comfort, not pain. It allowed her to whiz through the familiar halls of Heritage after losing her eyesight in order to turn on lights she couldn't see and hand out Bibles, books and magazines she couldn't read.


The little red walker provided fun rides for her 18 great-grandchildren, carried food to families with a dying loved one, transported her "winnings" from bingo auctions to promptly be given away, carried holiday gifts and candy for the children who visited her, provided a table for her food tray when she could no longer eat in the cafeteria, became her chair so her visitors could sit in comfort and on one occasion allowed her to distribute 150 multi-colored stuffed teddy bears to residents.


Mother was the closest thing to a saint I've ever known, living proof that you can't out-give God. "We shovel it out while God shovels it in," she'd say. Then, with a twinkle in her eyes, she would add, "And God's got a bigger shovel!"


Yes, she was a saint, but on a lighter note, she was also a mess. She especially loved being chosen Queen of Heritage one year. The highlight for her was riding on top of a convertible in a parade, throwing kisses to the crowd, while I kept a firm hold on her tiny legs so she wouldn't fly away.


We drove each other crazy.


One time she introduced me like this: "This is my daughter, Maggie. She's 64. Doesn't she look good for her age?" It didn't matter that my brothers and I were on Medicare; she still expected us to report our whereabouts on a daily basis.


Mother called me six or seven times a day about weather warnings, breaking news, surprise visitors, her latest Bible lesson, the time our plane would take off, when the Razorback game came on or that she was thinking about learning Spanish!


Sadly, her little red walker stands idle and empty today. Do you remember the rider-less horse? It was used by the military to bestow the greatest honor on a fallen soldier who died while in the line of duty. It's poignant. It's sad. It says they've gone away and they're not coming back.


Elizabeth Kinley, too, died courageously while in the line of duty. She lived for others. She never tired of giving. She was about the Father's business until the day she died. Her empty walker is as poignant as the rider-less horse. It's sad. It says she's gone away and she's not coming back.


Sometimes in a moment of weakness, I think back to that glorious day when the Queen, wearing her tiara and sash, sat proudly on the back of that convertible. I think, maybe I didn't hold those tiny legs tight enough. Maybe if I'd held her a little tighter, maybe if I'd held her a little longer, she wouldn't have flown away from me last year.


"That's crazy talk!" Mother would have said. "It was my time to go. It was the right time to go. It was a good time to go."


I am then reminded that God has given something into all our hands with which we can help make the world a better place. It could be a shepherd's rod, or it could be a fishing boat. It could be anything — even a little red walker!