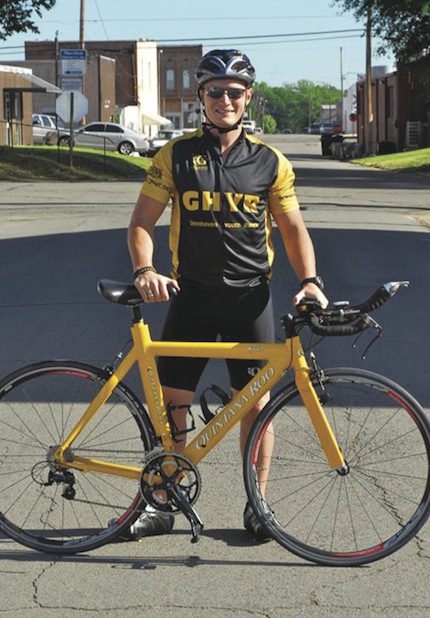 19 May 2012

The Glenhaven Grind: Biking for a better future

by Janna Virden

Nestled in 190 acres of the Ouachita National Forest in Plainview is Glenhaven Youth Ranch — a place where teens can go to heal and find help to become the person they want to be.

Executive director Dwayne Webb said the faith-based youth home coordinates with juvenile courts to get kids to go through the program before they get into serious trouble with the law. "I love kids — working with kids," Webb said. "I love their honesty. They are without guile."

Webb said all these kids need is a good "foundation in life and knowing what a relationship with Christ can do."

Glenhaven Youth Ranch works to heal the whole child using four pillars: spiritual life, home life, education and wellness.

"During the application and interview process, we look for signs that the child wants help," Webb said.

Many of the teens have had no father figure in their lives and come from single mother households, according to Webb. He said that even though the focus is on the teens, families receive counseling in hope of re-unification. He said most of the teens stay at the ranch for several months until they are ready to face their lives, better equipped with the tools they have learned from daily life on the ranch. Ninety percent of the teens that go through the program go on to be normal, productive adults, Webb said.

The ranch relies on financial support from donors and fundraisers to offset the cost of tuition. On Saturday, June 30, the first Glenhaven Grind Bike Ride will take place. It will start and end at the First Baptist Church in Morrilton.

Scott Luter, event coordinator, said there are three courses: a family friendly 7.5-mile course, a mid-level 15-mile course and a 60-mile course for experienced riders. He said that even though this is the first year, he hopes to have at least 300 riders enter.

The cost is $40 for a single and $70 for a family. Each rider gets an event jersey and lunch, provided by Grandpa's BBQ of Cabot.

For more information, call 501.432.5339 or visit ghyr.org.