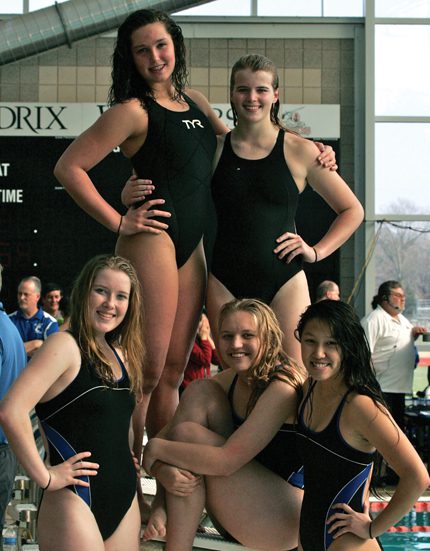 18 Feb 2012

The Five help team get along swimmingly

by Mark Oliver

One started snorkeling at age 3.

One saw an advertisement for open tryouts and gave it a shot.


One started because her parents didn't want her to play soccer.


One started simply to continue the family tradition.


One was enrolled in lessons after curiously jumping into the deep end of an apartment pool.

Together, these five girls — freshmen Sierra Kinworthy and Casey Ragsdale and juniors Corissa Calico, Annie Courtway and Jocelyn Woo — help make up the heart of the Conway High School girls' swim team.


"These five girls are a great asset to the team," said Conway High swimming and diving coach Christie Rye. "They are able to bring in high point [totals] at meets. Along with their points, the rest of the girls' team generates a winning team."


The team has won six of its last seven meets, as well as multiple awards and honors this year. In January, the team had an impressive run at the Hendrix Invitational meet in Conway. Ragsdale placed first in the women's 200-meter freestyle with Courtway placing third. Woo placed second in the women's 50-meter freestyle and second in the women's 500-meter freestyle. Calico placed first in the women's 100-meter fly and second in the women's 100-meter backstroke.


Woo, Ragsdale, Kinworthy and freshman Laura Bloomfield placed first in the women's 400-meter freestyle relay. Woo, Courtway, Calico and Ragsdale placed second in the women's 200-meter medley relay. Courtway, Calico and freshmen teammates Bloomfield and Amanda Crnic placed second in the women's 200-meter freestyle relay.
"I think our girls' team is so good because we apply ourselves and work hard," Calico said. "We want that state championship, and for me, that's all I think about when I practice. It's been my dream since I started swimming to get a state championship ring for swimming."

"It takes years of training to build a strong team," Courtway added. "This year's team is so strong because of the depth we have, something we've been lacking in the past. You can have a few star swimmers, but not get anywhere if you don't have depth in the team."

To be successful in the pool requires a lot of practice and patience. While each swimmer has a different individual practice routine, many of the girls find themselves practicing five to seven days a week and as early as 5:30 a.m.

"We are in the water [practicing] every day," Kinworthy said. "However, the work is mostly in your head. You have to push yourself mentally and build on it every second of every day or else the training doesn't matter."

"I swim multiple times a week," Ragsdale said. "It not only takes hours in the pool to build endurance, but working out those little rough spots to improve technique is very important."

Despite the large amount of time spent practicing, the girls are also active in various clubs and activities. Woo, Kinworthy, Courtway and Ragsdale swim for the AquaKids Swim Team for extra practice. Calico is involved in a variety of academic clubs and organizations, plays in the Conway High Marching Band and sings in the choir at her church. Kinworthy also swims for AquaKids and is a Conway High cheerleader. Courtway plays soccer, runs and even dances ballroom occasionally. She is also a part of the National Honor Society and Beta Club at Conway High. Ragsdale is active with Conway High's volleyball team.

Although each girl swims for a different reason, they each hold one thing in common: a love for the sport.

"I love the relationships between the coach and the team and the positive energy and atmosphere of the pool," Woo said. "I also love the feeling of having worked hard and given all my effort into improving, and of course, the smell of chlorine."

After graduation, Woo would like to continue swimming, with a goal of making the Olympic trials cut. She also plans to pursue a career in psychology. Calico plans to pursue a career as a math teacher. Kinworthy would like to be a Division One swimmer and plans on attending medical school to pursue a career in dermatology. Courtway would like to continue swimming in college. Ragsdale plans to attend medical school with a focus in anesthesiology.

At the end of a long day of practicing, the girls are more than just teammates — they're friends.

"Although swimming is an individual sport, it's very much a team sport in that we are always cheering for one another and celebrating our personal victories," Courtway said. "Because we all suffer together, swimming is something only my teammates really understand. The friendships I've made have been the most rewarding part of the sport."