By Sonja J. Keith
Business owner Stacy Crone's recipe for success is simple. Mix great food and delicious beverages with a pleasant atmosphere and a healthy dash of friendly service. The result is The BREWery, a warm and inviting neighborhood restaurant and coffee shop.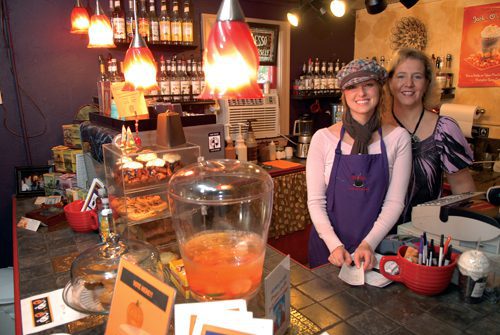 The BREWery – located at 2159 B Prince St. at the corner of the roundabout – is the place to enjoy a good cup of coffee (hot or cold), a grilled panini sandwich, a delicious salad or yummy homemade soups. Plus, there's the "world famous" Monkey Buns, a signature item.
"The Monkey Buns are made fresh daily and are not only delicious; they are a fun topic of discussion," said Stacy.
The Crones moved to Conway about three years ago. Stacy recalls driving by the cute coffee shop and thinking one day she would like to own it. Her dream became reality earlier this fall when presented with an opportunity to purchase The BREWery.
"When Robert Haskett approached me about buying the business, I had an instant feeling of excitement and hesitation. I did not think it was possible for me to own a business, much less a coffee shop – my dream job. I have been very blessed and honored to take over this venture. It has been a roller coaster ride that I do not want to get off of."
Customers enjoy a variety of tasty hot drinks at The BREWery, including Espressos, Cappuccinos and Lattes as well as custom-made hot chocolate. Fresh-baked pastries, cheesecakes and pies are available to accompany your drink.
The menu also includes breakfast items, appetizers, soups, salads and sandwiches. In addition, The BREWery serves a variety of gluten-free muffins.
Situated in a quaint part of Conway, the gourmet coffeehouse and eatery is within walking distance of the University of Central Arkansas, Laurel Park and Conway High School-West. Patrons can enjoy eating indoors as well as outside, thanks to the outdoor heated patio.
With free wireless Internet, The BREWery is also the perfect place to check email or work on a laptop while enjoying a warm beverage. It is also ideal for cozy gatherings with friends, small meetings and study groups.
Takeout is available at The BREWery as well as catering services. The eatery is also available for private parties.
"We are more than just a coffee shop. We are the coffee shop full of fun surprises. You recognize this when you are addressed by name upon entering the shop or having your drink ready when you reach the counter.
"I have the best staff on the planet and we all love our jobs," Stacy said. "Hopefully this is reflected in the pride that we take in our work."
Hours of operation are 7 a.m. to 9 p.m. Monday through Friday and 8 a.m. to 3 p.m. Saturday.
For more information, stop by and visit The "Brew Crew," call 32-ROAST (327-6278) or go to www.thebreweryconway.com.