31 Jan

The beat goes on: 56-year love story continues 30 years after transplant

By Stefanie Brazile

Frank and Jan Duncan are still tender towards one another after 56 years of marriage, but that's because she suggested that he have a change of heart.

After suffering massive heart attacks at ages 41 and 49, the Guy resident was fighting for his life at the veteran's hospital in Little Rock. He had served the Army for 17 years and nine months until a medical discharge. As the doctor's wrung their hands, Jan told them that she had heard about heart transplants. In 1988, the innovative surgery was not available at the VA in Arkansas. Fortunately, it was offered to veterans in Salt Lake City, Utah, but Frank was not strong enough to fly commercially and was too sick to travel by car.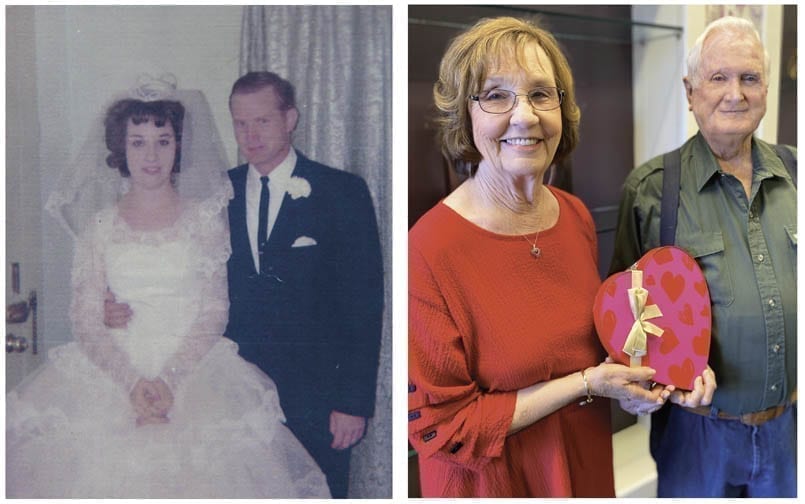 "There were so many days I didn't think he'd make it," Jan said. "Chaplain Smith from the Little Rock VA was particularly encouraging in our endeavor. He was instrumental in starting the process."
Family and friends were praying for a miracle and it came six-months later after many trips back and forth to the hospital. In early August, a military medical evac plane flew the couple to the City of the Saints. When his name was added to the national transplant waiting list on Aug. 17, Frank was too sick to leave the hospital. Miraculously, only four days later, he received a donor heart from a 14-year-old girl. His was only the 177th heart transplant in the nation and physicians hoped it would extend his life by five years, according to Jan. He has lived more than three decades.
"Words simply cannot express our gratitude for the wonderful blessing of Frank's heart transplant," Jan said. "We are so grateful to God, the doctors and staff, Chaplain Smith, and to the donor's family whom we never got to meet. We did write a letter that the nurse coordinator gave to them expressing our gratitude — seems so insufficient for such a gift."
The recovery process was lengthy and could have gone south if not for providence guiding Frank's hand. He remained in Utah for five months because his body kept rejecting the new heart. Treatment options were so new that doctors utilized experimental treatments with different patients. Frank would hand-pick his treatment from a box with three options; when he reached in and chose a piece of paper, what was written worked and he got to come home to his wife, his daughter (Tina Duncan Griffin) and son (Keith).
"They mean a great deal to me," the veteran said. "Jan's always been with me and encouraged me. She is my right hand — she's just wonderful!"
Since the transplant nearly 33 years ago, the couple enjoys four grandchildren, and he fulfilled a lifelong dream of hunting in Alaska. He also loves deer and duck hunting and drives his tractor and bush hog.
"I can't do it as fast as I could in the past, but I do whatever I want," he said. "I never think about it. I don't sit in the house all the time because I am not helpless. One friend who had a transplant didn't do anything, and he only lived the five years."
Frank deals with kidney problems, recurrent skin cancers because of medicine he must take and brittle bones. But at 81, his philosophy is to live life to the fullest because "everything is in God's hands. Don't be scared — just relax — nothing to fear. The doctors are great, and it's not hopeless."
The couple is still sweet on one another, and it's all because he had a change of heart.