By Don Bingham
"The two Mikes" — that's Mike Coats and Mike Kraft, co-owners of Mike's Place and Michelangelo's in Downtown Conway — have brought new dining experiences to the 501 LIFE demographic.
All have been produced with the customer's trust being first and foremost in the realized goals and objectives.
"Value of what we do — the quality of our product and price, this is what we strive for in our consistency," said Mike Coats.
The two restaurant concepts were born out of a successful "MarketPlace" Restaurant in Springdale in 1996. With the encouragement of Johnny Allison, Dale Bruns, Bill Hegeman, Brad Lacy and the Progressive Citizens for Conway — Mike and Mike have successfully launched two restaurants that have become known as two of the area's premier dining establishments.
One of the unique aspects of both Mike's Place and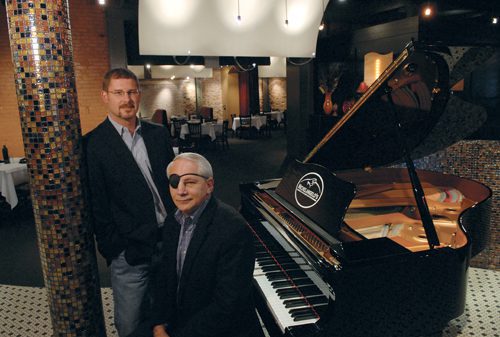 Michelangelo's is their weekly "Manager's Meeting" — when all participants are invited to bring to the table a suggested menu item. Everyone tastes, tweaks and suggests ways the new potential could be a success on the menus.
Out of this concept came the localized answer to the "Diner" phenomena of daily specials like meat loaf, chicken pot pie, turnip greens and pot roast. Both restaurant entrepreneurs boast of the "10 chef's" concept — where expertise and experience is put into practice from all employees… it truly is a team effort and a family atmosphere in management.
Of the two restaurant owners, Mike Coats would be considered "The Ultimate Entrepreneur" and even the "Chairman of the Human Resource Department," and Mike Kraft is the analytical, overachiever — and the one constantly "taking care of business."
It was amazing to discover that both Mike's Place and Michelangelo's still make their own stocks! This would explain the rich quality of their sauces — especially in the flavors of the fish-based bisque and soups.
When asked about future goals, the concept of "Chef's Night Out" — with area-known chefs working along side the staff to produce an evening of gourmet dining on the newly completed "third floor" at Michelangelo's — was a near-future dream. There was also the continuing of the DJ with music and dancing for the younger demographic; and maybe a tea hour during special times of the year. The two owners are always watching for more quality fish options for the menu — a constant goal.
Success is apparent. The two restaurants encourage and use local flavors, as they continue to be "the gathering place" to make connections as well as a local reservoir for good food and conversation.
It takes 160 employees to make this happen — and to make sure it happens with the consistency and excellence that the two Mikes expect.
When you're looking for an Italian themed restaurant or a classy New Orleans ambience — both with a diversified menu with something for everyone — Downtown Conway is the place to go!
The hours for Mike's Place — located at 808 Front St. — are 11 a.m.- 9 p.m. Monday through Thursday, 11 a.m.-10 p.m. Friday and Saturday, and 11 a.m. to 8 p.m. Sunday.
The hours for Michelangelo's — located at 1117 Oak St. — are 11 a.m.- 9 p.m. Monday through Thursday, 11 a.m. to 10 p.m. Friday and Saturday, and 10 a.m. to 2 p.m. and 5 to 8 p.m. Sunday.
Whether it's the guest experience or the employee experience you're a part of — Mike's Place and Michelangelo's offer a delightfully delicious dilemma — which "Mike" will we visit?