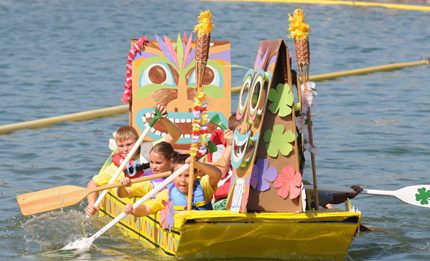 20 Jun

Teams prepare for annual cardboard boat races

by Peggy Gardner Kemp

"Gentlemen and ladies, start your engines."

That introduction won't be heard on Sandy Beach at Heber Springs as the 26th Annual World Championship Boat Races get under way — it's strictly no motors allowed.

Also, no metal, wood or screws are allowed in the construction of a boat. Other than those few restrictions, the sky and imagination are the only limits. Past boat entrants have been as simple as four sides and a bottom and as extravagant as a space shuttle, complete with uniformed crew.

The theme of the 2012 races is "Yellow Submarine."

According to Heber Springs Chamber of Commerce Executive Director Melisa Gardner, the idea is to have a "60s Beatles look" for the entries. Races this year will include the Anne Pressly Memorial Race — a celebrity team race, with participants being Little Rock area television personalities.

Races, which include both youth and adult divisions, begin at 10 a.m. Saturday, July 28, with awards being given for speed for one- and two-person boats, team boats and mechanical boats. Other awards are: the Pride of the Fleet Award, based on engineering details and innovative and unique design; the Captain's Award, based on team costumes and involvement; the Titanic Award, based on the most dramatic sinking; and the Demolition Derby Award.

The races are a part of a day of family-oriented fun activities and contests, including tug of war, kids' digging for treasures, sand sculpturing and volleyball. Various food vendors will also be on hand.

A second world championship event will occur during the race day — the World Championship Watermelon Eating Contest.

Beginning in 1987 as the "Cardboard Boat Regatta," the races were the brainchild of the chamber vice-president Peggy Reeder and Pat Zellmer, owner of the local newspaper. The event has grown over the years, with racers from all over the United States and local industries and businesses actively involved in a spirit of friendly competition.

Receiving the 2001 Arkansas Parks and Tourism Henry Award for community development through tourism, the races have also garnered national recognition. In 2005 the races were filmed live by ESPN and aired more than 21 times in a 36-hour period as part of their "50 Events in 50 Days" broadcast. Ensuing years have brought recognition and film crews from the CBS Early Show, the Smithsonian Institute and the Discovery Channel. In 2010 the races were included in the Top 10 Wackiest Summer Events by TripAdvisor.

Downloadable entry forms for the race are available on the chamber website (heber-springs.com), along with an 18-page "Cardboard Boat Basics" guidebook. Boats must be constructed of corrugated cardboard and, if the judges deem necessary, must pass an "ice pick" and metal detector test to verify that no banned materials have been used. According to Gardner, though early entries are encouraged, participants are allowed to "show up" the morning of the races with their boats.