29 Sep 2020

Team approach: Cardiologist envisions best outcome for patients

by John Patton

Rimsha Hasan, MD, is looking forward to a busy medical practice in Conway. An interventional cardiologist, Hasan wants "a practice that serves the needs of the community and focuses on quality care." She adds, "I hope I am known as a physician who is accessible to patients and to physicians in the community, working as part of a team with other providers."

Today's medicine is about a team approach and awareness is key, says Hasan. "The more we talk and work together, the better we can educate our patients and prevent long-term health consequences."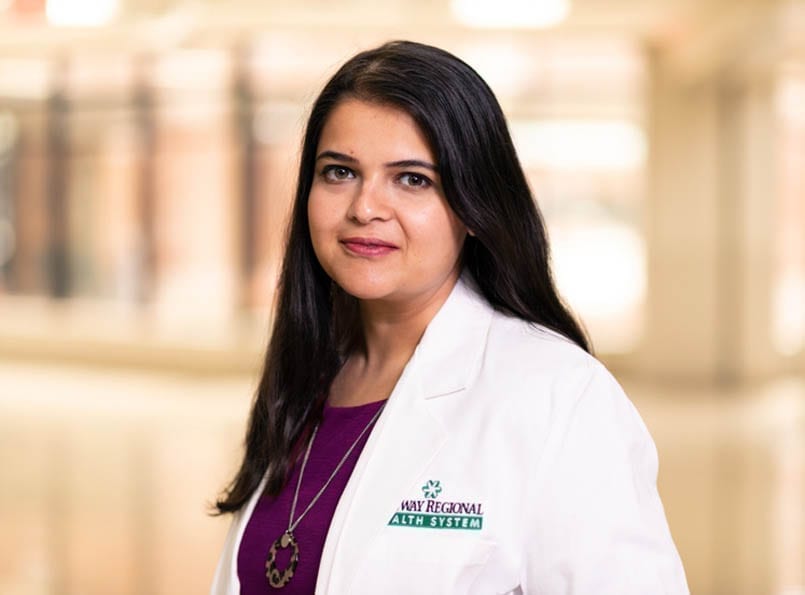 Hasan joined the Conway Regional Cardiovascular Clinic on July 13. As an interventional cardiologist, she specializes in the diagnosis, treatment and management of diseases of the heart and blood vessels. Hasan helps patients manage a variety of conditions from hypertension, including life-threatening heart attacks, stable coronary disease, peripheral arterial disease, critical limb ischemia, congestive heart failure and irregular heart rhythms.
Interventional cardiologists often perform procedures in the cardiac catheterization laboratory, such as coronary angiography, right heart Cath, peripheral angiography, balloon angioplasty, stent placement, pulmonary angiography, EKOS therapy for pulmonary embolism, closure of PFO (patent foramen ovale, an opening that allows blood to bypass the lungs and go to the left atria of the heart) and ASD (atrial septal defect, a hole in the septum that separates the upper chambers of the heart).
At Conway Regional Cardiovascular Clinic, she has joined Don Steely, MD, a highly experienced interventional cardiologist who has been caring for patients in the Conway area for more than 22 years.
"Dr. Hasan is very personable and extremely capable," Steely said. "She brings a sense of calm, combined with talent and competence, which makes her an excellent addition to the staff and a great fit with our team."
Hasan completed a residency in internal medicine at AtlantiCare Regional Medical Center in Atlantic City, N.J. From there, she completed fellowship training in interventional cardiology and general cardiology at the University of Arkansas for Medical Sciences (UAMS) in Little Rock.
"I said I wanted to be a neurosurgeon at the age of 4, but I was destined to be a cardiologist instead," said Hasan. She realized her calling to cardiac care during rotations in medical school. "It's everything; the complexity, the urgency and the fact that there is immediate gratification. It gives you a mix of inpatient and outpatient care, and the opportunity to problem solve in both settings," said Hasan, who describes herself as "a team player, honest, meticulous and aggressive with patient care."
In July, Hasan moved to Conway from Little Rock with her husband, Sohaib, and two children: 4-year-old daughter Minha and 1 ½-year-old son Azlaan. "The people here have been incredibly nice to me," she said. Rimsha and Sohaib, who is preparing for a medical residency, enjoy nature and often take Minha on climbs at Pinnacle Mountain in Little Rock.
"It has been a smooth transition. The office manager and cath lab manager, Dana (Costley) and Paula (Weatherley), have been super helpful. Matt Troup (Conway Regional's president and CEO) and other hospital leaders are receptive and great to work with. Dr. Steely has been wonderful and is a talented colleague."
"We are thrilled to have Dr. Hasan join the Conway Regional medical staff," said Troup. "We are fortunate to have an outstanding hospital staff and medical community that are so supportive of new physicians," he said, adding, "The atmosphere at Conway Regional, and in the Conway community in general, creates an advantage in recruiting talented physicians, such as Dr. Hasan."
While she enjoys caring for all patients, Hasan seeks to address some of the misconceptions surrounding women and heart disease.
"Women's heart health often gets misdiagnosed and that delays access to care," said Hasan. "There is an under representation of women in all the cardiology data. The major misconception is that 'it's a man's disease,' which is not true. It's a human disease and it can happen to anyone."
Hasan diagnoses patients based on a risk profile, irrespective of gender. "The focus should be on individual risks, rather than just dividing people into categories based on gender," she said.
The individual assessment includes comorbidities and social habits, including a sedentary lifestyle, lack of exercise, smoking and a family history. "Some of the risk factors can be modified. Being connected with your community can improve lifestyles and contribute to a positive impact on a large scale."
Hasan offers a few words of advice for the public. "Don't wait on symptoms such as chest pain, shortness of breath and back pain that is happening with exertion. These can be symptoms of a heart attack."
Hasan gives an example of a patient in her 40s who received a second heart stent. "The first time she did not recognize her symptoms. The second time, her chest was hurting and she knew what was going on and came in right away. She was revascularized within 60 minutes of presentation which helped save her heart muscle."
To schedule an appointment with Hasan, call 501.358.6905.