20 Jan 2020

Sweets for the Sweet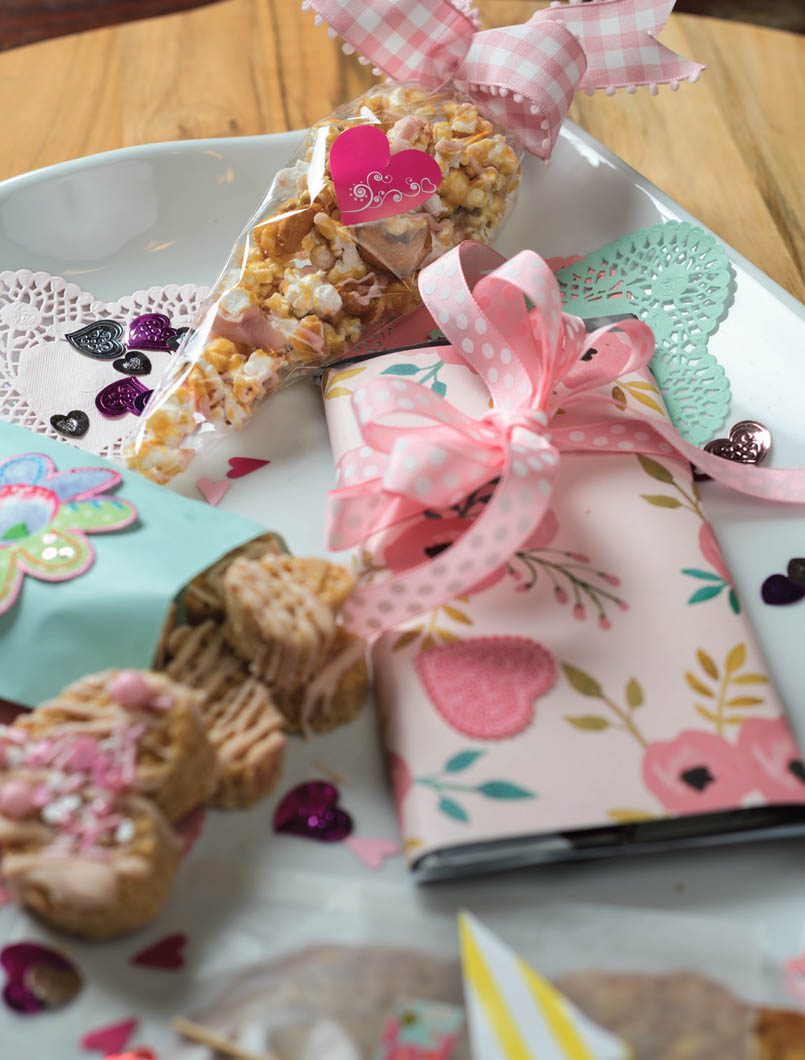 by Julianne Milner
Valentine's Day! The perfect day to scatter kindness like confetti! This month I've gathered a few of my favorite sweet recipes and wonderful paper products to give you some ideas for Valentine's Day giving. These ideas are great for a spouse, co-worker, neighbor, a teacher, your UPS driver, postal delivery driver, anyone who helps you out graciously throughout the year.
The Oatmeal Lace Cookies are delicious, delicate cookies that are both crunchy and chewy. I like to give them in glassine bags. The translucent, wax paper-like finish lets a little of the cookie show through. These bags are great when you are serving the cookies too, making it easy to grab a cookie and go.
Pretty pastel bags are just what I needed to slip the heart-shaped Scotcharoos into. These are easy to decorate with stickers, ribbons or patches.
I like to use cone-shaped cello bags to package my candied pecans and caramel popcorn with Ghirardelli chocolate drizzle. They make a dramatic presentation tied with a ribbon.
You can make your own cones by purchasing a large sheet of scrapbook paper, rolling it into a cone shape, taping and adding a handle. Next, stuff with a small amount a crinkled paper, add flowers, candy, etc. and tie it to a friend's doorknob. What a fun Valentine's Day surprise!
Drawstring burlap bags are perfect for small items. I chose these bags to package my candied pecans. The "Nuts About You" monogram is sure to bring a smile.
If you find yourself short on time this Valentine's Day, you can purchase an extra large candy bar from your grocery store and wrap it in a pretty paper. Or, grab a jumbo Hershey's Kiss and give it its own little box and ribbon. It's all in the presentation. Sometimes the smallest gifts get the grandest response!
I hope after reading this article you are digging through your craft drawer and searching for ribbons, boxes, buttons and bows to create special little gifts for YOUR valentines! Maybe you've said to yourself, "I'll try THAT recipe"! It only takes a minute to create that little treat that really makes someone's day.
Happy Valentine's Day from my family to yours …XOXO!

Oatmeal Lace Cookies
1 cup (2 sticks) butter
1 cup granulated sugar
1 cup packed light brown sugar
2 large eggs
1 teaspoon vanilla extract
1 1/2 cups all-purpose flour
1 teaspoon baking soda
1 cup old fashioned rolled oats
1/2 cup chopped pecans
Preheat oven to 350 degrees. Line two baking sheets with parchment paper.
In a bowl, cream the butter and sugars. Add the eggs, one at a time, beating well after each. Beat in the vanilla.
In a separate bowl, blend the flour and baking soda. Beat the flour mixture into the butter mixture. Stir in the oats and pecans.
Drop the batter on the baking sheet, using a 1 1/2 cookie scoop, spacing the cookies 4 inches apart. Bake for 8 to 10 minutes. Let cool on the baking sheet for 4-5 minutes, then transfer to a cooling rack and cool completely (trying to move them to rack sooner may cause them to tear).  Make sure cookies are cooled completely before you stack or store.
This recipe has been around for a long time. I had a good friend I met in elementary school whose mom made these for us regularly. I cannot begin to tell you how many times I've made these over the years! They are my son's favorite! Thank you, Mrs. Clary.
Scotcharoos
Stir together and bring to boil in a heavy pot:
1 1/2 cups lite Karo syrup
1 1/2 cups granulated sugar
Remove from heat and stir in:
1 1/2 cups creamy peanut butter
Add:
9 cups Rice Krispies
Lightly spray a 9 x 13 glass dish or 12 x 17 jelly roll pan (depending on how thick you want the bars) with cooking spray and spread the mixture, using the back of a spoon to smooth the top. At this point, you can cut into squares and enjoy. Or, melt 6 ounces of Ghirardelli milk chocolate in a double boiler and drizzle over.
These are easy to cut out into your favorite holiday shapes with cookie cutters if you use the jelly roll pan.