29 Nov 2022

Sweet Grandma Sue

By Morgan Zimmerman

Sue Hill, known by many in Conway County as "Grandma Sue," has been making cookies for her family and friends in the Morrilton area for more than 70 years. Over the years, she's shared that tradition with her daughters, granddaughters and great-grandkids, creating a multi-generational love for baking.

Sue was a Title 1 Reading Aide at the South Conway County School District for 21 years, and her husband owned and operated the Morrilton Motor Company for more than 60 years. She is a lifelong member of the Downtown Church of Christ. "If the church doors are open, our mom is there," Vicky Ronk said.

Sue taught herself how to bake with a recipe she got from her favorite aunt, the pinwheel date cookies. "Date cookies are the cookies I made for my husband's business supporters at the Morrilton Motor Company, our family and our church family," She said.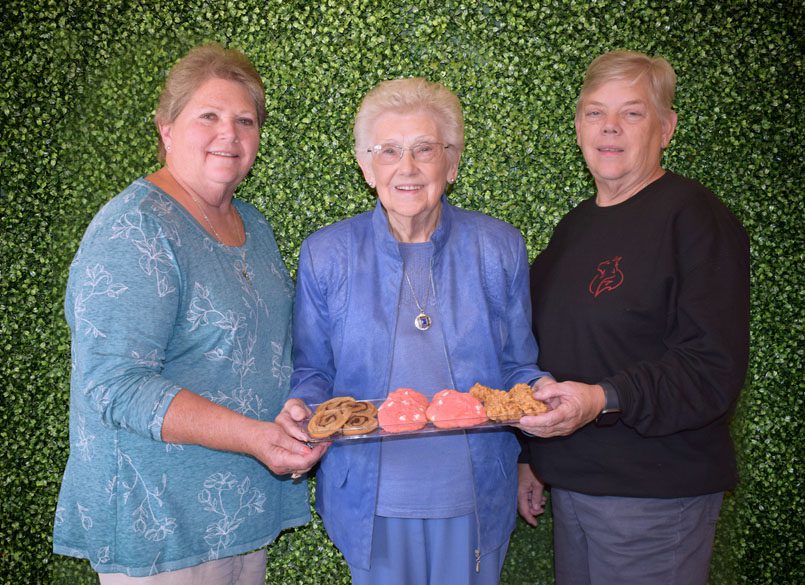 Years later, when her daughters (Ronk and Patti Hill) were coaching and teaching at South Conway County School District, she would make Rice Krispies treats for the athletes to take to away games and chocolate chip cookie bars for the Morrilton Mighty Pup Singers. She also has a son, Ricky Hill, and a daughter who passed away in 2007, Rita Fougerousse.
More recently, capturing the interest of the youngest generation, she taught her great-grandson how to make her strawberry cookies for a bake sale to raise money for a school trip.
"One thing about mom is that you never leave her house hungry, even if she just made you a quick grilled cheese," Vicky said. "When we were kids, there was always some kind of homemade snack for us coming home from school, and mom always hosted family lunch after church on Sunday. We got to help with that."
While her love for God, food and family goes far beyond the holidays, Sue looks forward to celebrating Christmas traditions with her large family and community. Attending the Morrilton Christmas parade, Morrilton Church of Christ Christmas parties, neighborhood parties and family get-togethers with "lots of food, visiting and fun" are all on the agenda this holiday season.
When asked if she likes baking for any one person in particular, Sue said, "I just love surprising people with cookies, pies and bread."
Date Cookies
Rolling pin
Wax paper
1 box light brown sugar
1 cup melted Crisco (buy solid form and melt)
2 eggs
1 tsp. vanilla
Sift in the following:
1 tsp. baking soda
1 tsp. cream of tartar
3 1/2 cups flour
Combine brown sugar, melted Crisco, eggs and vanilla. Then, sift in soda, tartar and flour. Mix together. Lay out two large sheets of wax paper. Divide dough into two sections. Roll dough out flat on each sheet with a rolling pin, as you would for a jelly roll.
Prepare cookie filling:
1/2 cup sugar
1/2 cup water
3/4 to 1 cup of chopped dates
Combine in a saucepan and cook over very low heat until smooth.
Spread 1/2 of filling over each section of dough and roll up (like a jelly roll). Wrap each roll in the wax paper and place in freezer safe bags or containers. Freeze at least overnight for easier slicing. Slice 1/2 inch thick and bake at 350 for 10-12 minutes.
No Bake Cookies
2 cups sugar
1/2 cup milk
1/4 cup cocoa
1/2 cup butter
2 cups regular oatmeal
1/2 cup peanut butter
Boil ingredients slowly, about three minutes. Remove from heat and drop by heaping teaspoonfuls onto wax paper.
Strawberry White Chocolate Cookies
1 box Duncan Hines strawberry cake mix
1/2 cup oil
2 eggs
3/4 cup white chocolate chips
Mix first three ingredients, then add chips. Use a teaspoon to dip dough and form into 3/4 inch balls. Place on greased cookie sheet. "Bake at 350 for 10 minutes and no longer. They may not look done but let them set a while," Grandma Sue Hill said.