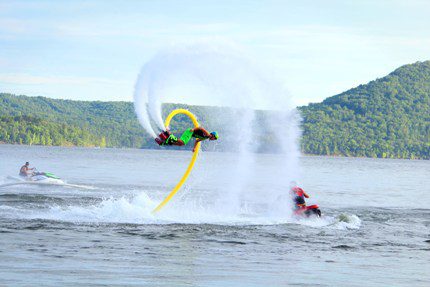 14 Jun

'Surf the Bay' June 17-18 at Fairfield Bay Marina

Fairfield Bay will host the Annual "Surf the Bay" Water Sport Festival on Friday, June 17, and Saturday, June 18, at the Fairfield Bay Marina.


The free event will feature wakesurfing, flyboarding, paddle boarding, kayaking and family-fun water slides where you can "ride the wave." New this year is a Heartland Classic Boat Show, featuring beautifully restored antique wooden boats from days gone by. The festival will also host the first wakesurfing contest in Arkansas.


"Surf the Bay" will kick off with a big beach party Friday night, featuring live music, water games, dinner, refreshments and more. Activities start early Saturday morning with food vendors, hiking at nearby Sugar Loaf Mountain and plenty of outdoor activities on land and fun in the water.


"This day will be like no other as we watch the thrilling stunts and tricks of some top professional skiers, see a man 'fly', ride on some top-of-the-line boats and marvel at the classic antique boats," said Paul Wellenberger, general manager of the Fairfield Bay Community Club. "This event is tailor-made for families and individuals who love the water and want to experience all an Ozark Mountain Lake has to offer – on stunning Greers Ferry Lake."


This event welcomes visitors of all ages and encourages everyone to grab a board, jump a wave or "fly." Professionals will showcase their craft, or individuals can sign up to participate in three of the most popular and unique adventure sports in the country: wakesurfing, flyboarding and stand up paddle boarding. If the waves get too extreme, there's plenty of kayaking, tubing and other water and summer festival fun.


Make the most of time in beautiful Fairfield Bay and stay for the weekend. For more information on "Surf the Bay" and all that Fairfield Bay has to offer, go to VisitFairfieldBay.com/Surf or call 501.884.4202.