20 Jul

Superstar: Wonderview's Tinsley excels through disability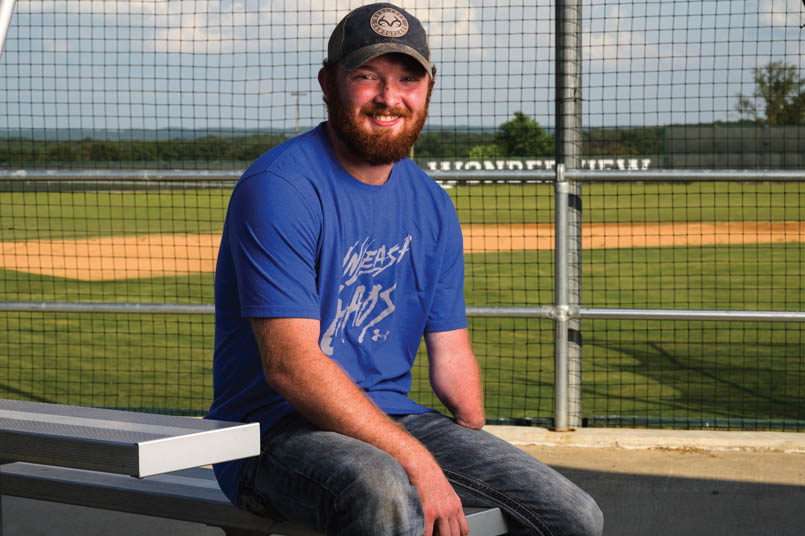 by Dr. Robert Reising
by Mark Oliver
Wonderview High School graduate Jacob Tinsley was just 5 years old when he lost his arm in a mowing accident. However, what was once a tragic accident turned into an opportunity for a young man to teach others how to overcome life's most difficult obstacles.
"My dad was mowing the yard one day, and I wanted to go out there and play with him," Tinsley said. "I ran out there and tried to jump to him while he was mowing and fell over the front of the lawn mower and it ran me over. I remember the trip to the hospital — my mom driving fast and my dad praying, saying, 'Lord, please don't take my boy.' All that I remember after that was waking up and my arm being gone."
In that moment, Tinsley's life had changed forever. However, his competitive nature would not allow his handicap to keep him from doing the things he enjoyed most in life.
"When I was in eighth grade, my dad got me a glove, and we'd go out in the yard and play around," Tinsley said. "That's when I knew that I wanted to play baseball. I learned about Jim Abbott, a one-handed player who played for the New York Yankees, and I really looked up to him from that time. I figured if he could do it, I could do it, too."
That was just the beginning of Tinsley's love for baseball. Two years later, Jacob was suiting up for Wonderview's varsity team, hoping to one day follow in Abbott's footsteps.  
"When I became the coach of Wonderview, Jacob was a sophomore," said head coach Phillip Golden. "Generally, when you see a one-armed baseball player, you don't know what to expect, but when we got to practicing and playing, I was extremely impressed with his abilities. He kept working hard for me, and he ended up starting every game but one during his junior season."
Over the years, Tinsley quickly blossomed into a star at Wonderview, finding creative ways to overcome his disability while earning All-State and All-Conference honors for the Daredevils. 
"There will always be people who doubt you on what you can do," Tinsley said. "Embrace it. I love being told that I can't do something, so I can go out there and prove them wrong. When it comes to catching, throwing and hitting, I've had to adjust to find different ways to be successful. You have to try and believe that you can, and it can take you far."
"Jacob was our starting center fielder this year," Golden said. "He started every game for us and only had four errors for the entire year. He pitched for us, too, with a 4.2 ERA and held a .321 batting average. He was a great baseball player for us. In the three years that I coached him, I never saw him use his handicap as an excuse. He is a hard worker with a great attitude and always has a smile on his face. Everyone loves him here, and he's great to be around. We're definitely going to miss him." 
This season, Wonderview finished with a Class 1A regional tournament appearance. Tinsley's efforts this season earned him a nomination to the high school baseball all-star game.   
"Over the past three seasons at Wonderview, we've been improving in the win column each year," Golden said. "Jacob is a big part of why we have gotten to where we are today. When you see a guy with only one arm outworking you out there, it makes you want to go as hard as you can. He's an inspiration to all of us, and his attitude and work ethic have been a big part of where we are as a program today."
In a career filled with great memories, Tinsley recalls a time during his senior season where he robbed an opponent of a home run. 
"I remember playing in a tournament in Batesville, and one of our opponents had a guy who hit a bomb deep to the outfield," Tinsley said. "He was so sure that it was a home run that he flipped his bat, but when I caught it, he turned to our fans in disbelief and told them that I was unstoppable." 
In May, Tinsley graduated from Wonderview and is already hard at work in building his future. 
"My goal is to go to North Arkansas College in Harrison and walk on to play baseball there," Tinsley said. "And if baseball doesn't work out for me, I'd like to become a master electrician one day. I have a partial college scholarship right now, but I don't want my parents to have to pay for me, and I don't want to have to get student loans, so I'm working hard this summer to save up the rest of the money before the semester starts."  
In June, Tinsley received the Arkansas Preps CHI St. Vincent Health Award, which recognizes an athlete who not only overcame a health challenge or injury, but also inspired his team or community. 
"The award is handed out to players who have overcome hurdles or extreme adversity in their athletic careers to get to where they are today," Tinsley said. "I wish I knew who nominated me so that I could thank them." 
"It's a very prestigious award for a high school player," Golden said. "I just can't say enough about the person he is. He has always made the most of his opportunities and has never allowed his handicap to be a hindrance to him."
In 2018, when his story was shared by a local television news station, Tinsley and his family received an outpouring of support from other families across the country who have children who have endured mowing accidents. 
"After the story had aired, a group of people in a lawnmower accident prevention group on Facebook reached out to my dad and asked me to talk to them," Tinsley said. "One man, who had a little boy who lost his arm in a lawnmower accident, wanted to meet my dad and talk about how to get through the aftermath and help his son, and I took the boy out to show him how to play baseball and reel in a fishing pole."
Despite the challenges he has faced, Tinsley is proud of what he has accomplished in the face of adversity. 
"I have had lots of people in my life who have helped me become the man I am today," Tinsley said. "If there's one thing that I want people to know about me, it's that I couldn't have done it by myself. Without the encouragement and support of my family, friends, teachers, teammates and coaches, I wouldn't be who I am today."
"When a child endures an injury like Jacob has, it's easy to think about all the things they won't be able to do," Golden said. "However, Jacob proves all of that wrong. He's just an old country boy who plays hard and loves his school and community. He has handled the curve ball that life has thrown at him, and it hasn't changed him a bit."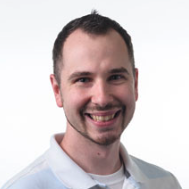 Latest posts by Mark Oliver
(see all)