30 Nov 2022

Sugar Bears overcome Hendrix

CONWAY — The Sugar Bears (3-2) defended home court on Saturday, Nov. 26, taking a 65-54 win over crosstown opponent Hendrix. Led by Kierra Prim's career-highs in points (24) and rebounds (18), Central Arkansas moved to 2-0 at home this season. Kinley Fisher and Parris Atkins also chipped in 10 points apiece, with Fisher draining a pair of three-pointers and Atkins swiping a season-high four steals.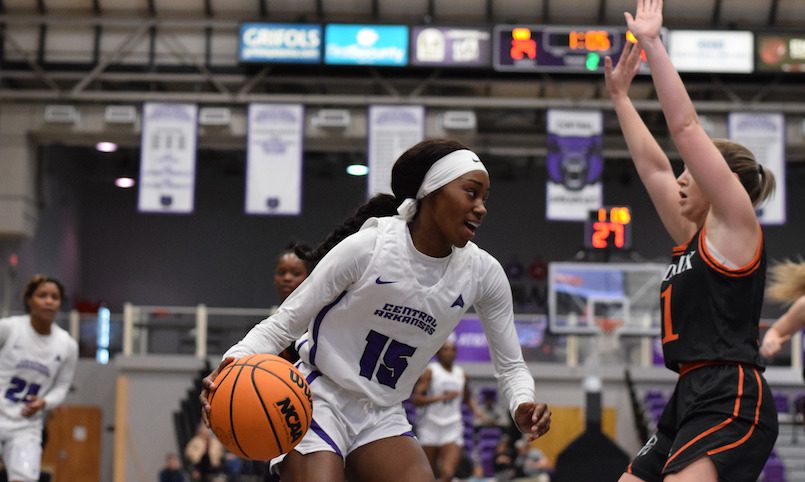 Prim's output garnered her a second ASUN Newcomer of the Week award, as she rose to ninth in the conference in scoring and first in rebounding. She now averages 14.0 points and 10.6 rebounds per game, including 7.2 offensive rebounds per contest. Her offensive rebounding numbers have been key to the success of the team, producing second-chance opportunities. Through the three-game winning streak, the Sugar Bears have averaged 20.3 second chance points per game on over 18 offensive rebounds per game.
Central Arkansas is 9-0 all-time against Alcorn State, including a 64-48 win last season. The home victory was notable because only four Sugar Bears scored, with three seniors and Randrea Wright putting points on the board. Wright's statline was an efficient 13 points on four field goal attempts, with six rebounds and four assists. On the defensive end, Central Arkansas held the Braves to just 31 percent shooting while giving up just six free throws attempts.Hosting Central Arkansas on Tuesday, Alcorn State enters the week with a 2-3 record, having won its last two outings. The Braves' wins have been a 100-51 win over Arkansas Baptist, followed by a 65-56 triumph over New Orleans. Against New Orleans, Destiny Brown filled the box score, putting up 18 points, five rebounds, five steals and five blocks.

Brown has been the team's leading scorer, netting 10.6 points per game at a 60.5 percent clip. She is also one of three Braves to pull down four or more rebounds per contest, ranking third with 4.6. Alcorn also excels at forcing turnovers from its opponents, inducing 100 turnovers from foes, with 43 live-ball steals. All but two players on roster have at least two steals, with five players averaging at least a steal per game.

Fans can follow game action on the radio, listening to 91.3 The Bear with Steve Owens on the call. Live stats are available here.