21 Sep 2022

Sugar Bears open ASUN play tomorrow

CONWAY –Fresh off taking two of three in Memphis this past weekend, the Sugar Bears will head down to the Yellowhammer State on Friday to take on the Jacksonville State Gamecocks to open ASUN conference play. Central Arkansas will then head east to the Peach State to take on the Kennesaw State Owls on Saturday.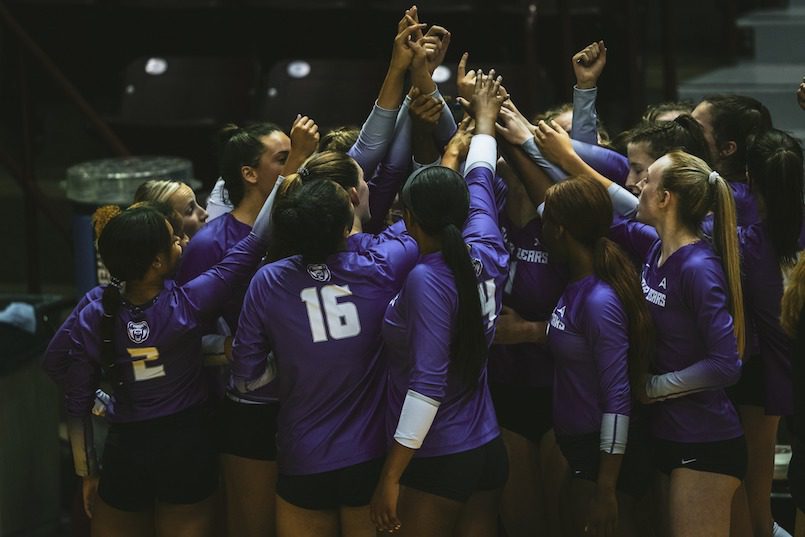 John Newberry has the Sugar Bears out to a 7-5 start to the 2022 season. So far, the story of the season has been the play of underclassmen like Laci Bohannan, Jamiryana Hall, and Caylan Koons. Bohannan, a Benton native, is leading the team in kills with 111, a spectacular start to her freshman year. Hall, a sophomore from San Antonio, Texas, is not too far behind with 87 kills thus far. Caylan Koons has been in and out of the lineup at times but has been incredibly effective so far. The Springdale native is off to a great start to her freshman year, as she leads the team with 244 assists, which is good for 8.41 per set. Defensively, grad transfer Leigh Maher has led the charge. Maher has played a majority of her time as the libero and has 184 digs so far this season.
The Gamecocks, coached by Todd Garvey, are off to a hot start in the 2022 campaign. Jacksonville State started off this season with 12 straight wins, before ultimately having its streak snapped by Auburn this past Saturday. The Gamecocks boast wins over Indiana, Clemson, and Southern Miss on the season. The Gamecocks are a veteran team, littered with talent, and should provide a great opportunity for the Sugar Bears.
Jacksonville State's roster certainly has a few players to watch for, like fifth year outside hitter Lena Kindermann, who has 172 kills on the season, good for 3.66 per set. Another fifth-year player for JSU is middle blocker Katie Montgomery, who has pitched in 121 kills, which is good for 2.57 per set. Montgomery, an Idaho Falls, Idaho native, also leads the team in blocks with 32.0. JSU has great trust in graduate student Claire Ochs, the setter from Chesterfield, Missouri has tallied 484 assists on the year. While a few other players have a handful of assists, Ochs has yielded most of the production this season for Jacksonville State. Defensively, the Gamecocks are led by Erin Carmichael, with 168 digs on the season at the libero position.
The Kennesaw State Owls, the Sugar Bears' Saturday opponent, are coached by Keith Schunzel and have put together a 7-3 start. While the Owls have played fewer games than their ASUN opponents, they have still faced quality opponents in preparation for conference play. KSU dropped both of their opportunities versus Power-5 opponents in Wake Forest and Mississippi State, but swept an early-season tournament against Furman, High Point and Samford. Kennesaw State is another veteran-laden team that has had a lot of production come from their upperclassmen.
The Owls have several players to keep an eye on as we head into this weekend's action. Senior outside hitter Dani Ballou leads the team in both kills and points with 79 and 99.0, respectively. Not far behind are Jasmine Brown and Emma Schurfranz with 74 and 73 kills apiece. Also helping out offensively this season is setter McKinley Ferguson. The junior out of Jasper, Ala., has contributed 308 assists this season, averaging 9.63 assists per set. Defensively, another senior has led the Owls this year in Shelby Dennis. The Cincinnati native leads the team with 109 digs so far and is averaging 3.41 digs per set.
The Sugar Bears face Jacksonville State on Friday night at 6 p.m. The broadcast will be on ESPN+. Central Arkansas then takes on Kennesaw State on Saturday at 4 p.m., that game will be available on YouTube. You can follow along with the action in both games on Twitter at @ucavball.