04 Jan 2023

Sugar Bears drop conference opener

CONWAY — The 2022-23 ASUN portion of the schedule got off on the wrong foot for the Central Arkansas women's basketball team, after the team dropped a 65-45 score to Jacksonville State on Monday. The loss drops the Sugar Bears to 7-5 on the year, now 0-1 in conference.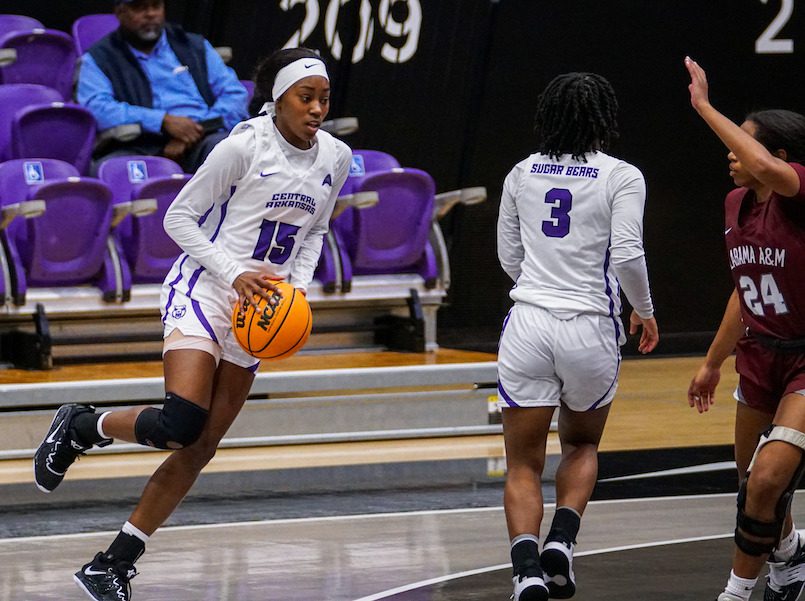 Freshman Parris Atkins, fresh off her first ASUN Freshman of the Week award, led the team again with 13 points, notching her ninth game of double-figure scoring on the year. Kyjai Miles put up eight points and nine rebounds, but fast break points proved to be the difference in this one, as Jacksonville State raced out to a 17-2 advantage in transition.
It took a minute for the Sugar Bears to get going on offense, scoring just two points through the first few minutes of the game. Trailing by eight, Atkins got the team buzzing with an and-one layup near the six-minute mark, kickstarting the offense to cut into the lead. Cutting the lead to five, Central Arkansas seemed to be in a spot to make a push to stay close, but the Gamecocks were able to fend off the run, keeping the lead just out of reach. Checking in late in the quarter, Gloria Fornah hit back-to-back post spins to score four-straight, narrowing the deficit to six at the end of the first frame.
Kinley Fisher opened the second quarter with a deep three, closing the gap to 19-16 for the Gamecocks. From there, Jacksonville State gained control, piling up a 21-6 run through the remainder of the quarter to take a 40-22 lead into the break. After 20 minutes of basketball, Atkins was atop the roster with seven points.With halftime adjustments in mind, the Sugar Bears came out aggressively on the defensive end, contesting shots without fouling and forcing the Gamecocks into tough shots. And while the offense for Central Arkansas wasn't humming either, the defense in the third quarter never wavered, as the Sugar Bears held Jacksonville State to just nine points in the third quarter, the ninth quarter this season in which a Central Arkansas opponent scored single digits.

The fourth quarter was similar to the third, as the Sugar Bears continued to fight despite the deficit. Atkins in particular was aggressive on the offensive end, shooting 3-for-3 in the frame for six more points. Overall, Central Arkansas shot 54 percent in the quarter, while forcing five turnovers from the Gamecocks. For the second half, the Sugar Bears were only outscored by two points, battling the reigning ASUN West champions to a near deadlock in the last two quarters.

Up next for Central Arkansas is the first road trip of the new year, with Liberty on tap in the next one. Tipping off at 2:30 p.m. today, it marks the first trip to Lynchburg, Va., for the Sugar Bears.