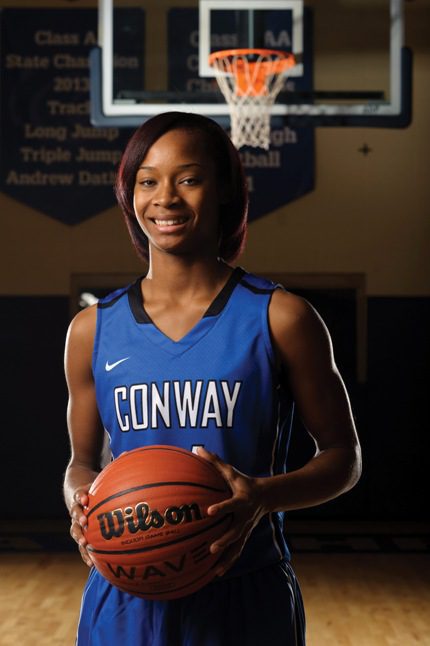 04 Mar 2015

'Successful' Danberry prepares for future

by Mark Oliver


Over the years, the Danberry name has been synonymous with success for Conway High School. From undefeated seasons to state championships and a plethora of awards in between, for Lady Cats' senior point guard Jordan Danberry, basketball isn't just a game, it's in her blood.

"My family is very basketball oriented," Danberry said. "My mom and my aunts played for Conway, and my grandpa, Odie Phillips, was a coach. They helped me get started with Upward Basketball, and [Phillips] formed an AAU team that I played on. I've just kept going from there."


Danberry was selected to this year's 501 Basketball Team, which boasts the best the 501 has to offer both on and off the court. The two-time honoree was nominated by Conway's head coach, Ashley Nance.


"Jordan is a great floor leader," Nance said. "She can control the offensive side of the game with her point guard skills and is a great finisher around the basket. She is also a humble teammate and realizes that she would not be the player she is today without the help of her teammates."


In all her years on the court, Danberry's favorite memory is undoubtedly clinching the Class 7A state title a year ago.


"It was an unbelievable feeling," Danberry said. "All the girls on our team played together when we were younger, and we had dreamed of that day for years. To win the championship and represent our city the way we did was unbelievable because we know we worked hard for it."


In addition to the state championship, in which she was named MVP, Danberry's career with Conway includes many more accolades, including being named the Arkansas Gatorade Player of the Year, being nominated for the McDonald's All-American game and achieving the rare perfect season as a freshman with the Conway White Lady Cats.


For someone who's endured so much success during her high school career, what else is there to work toward? According to Danberry, there's plenty — she plans to use her senior season to prepare herself for her future in college basketball.


"I recently signed with the University of Arkansas," Danberry said. "I'm excited to play for the Lady Razorbacks. Although I'd like to win the same awards that I received last year, what's most important to me this season is preparing myself for SEC basketball next year."


As of press time, Danberry is currently ranked by ESPN HoopGurlz as one of the nation's top 50 players and is ranked No. 14 at her position, nationally. With the state tournament looming ahead, Danberry is eyeing the opportunity for her team to repeat as state champions in her final season with the Lady Cats. The Lady Cats finished second in the 7A/6A Central, earning the top seed out of the Central in the 7A state playoffs.


"Coach Nance wants us to win state, of course, but in order to do so, we need to gel as a team," Danberry said. "We've been successful in the past, but that's our past, and we need to go hard each game if we want to win it all for a second straight season."


Off the court, Danberry is a member of Caring Cats Club, which holds fundraisers for community service projects to benefit those in need. She also volunteers her time as a coach during the Lady Cat basketball camp, is a part of the youth group at Zion Temple Church of God in Christ in Conway and still finds time to work for Chick-fil-A. At the University of Arkansas, she plans to pursue a degree in criminal justice.


"Jordan has a great personality and sense of humor," Nance said. "She cares about her success in the classroom and puts in a lot of work, not only on the court, but in the classroom and the community as well."


After a first-round bye, the Lady Cats will play this week in the 7A state playoffs at Springdale Har-Ber.