05 Oct 2022

Stumbough and Koons earn conference honors

ATLANTA, Ga. –A great week just got better for Central Arkansas Volleyball. Not only did the Sugar Bears go 3-0 on the week and raise their ASUN record to 2-2, but two of UCA's players earned conference recognitions. Senior Alexis Stumbough won ASUN Player of the Week, and freshman Caylan Koons won both Freshman of the Week and Setter of the Week.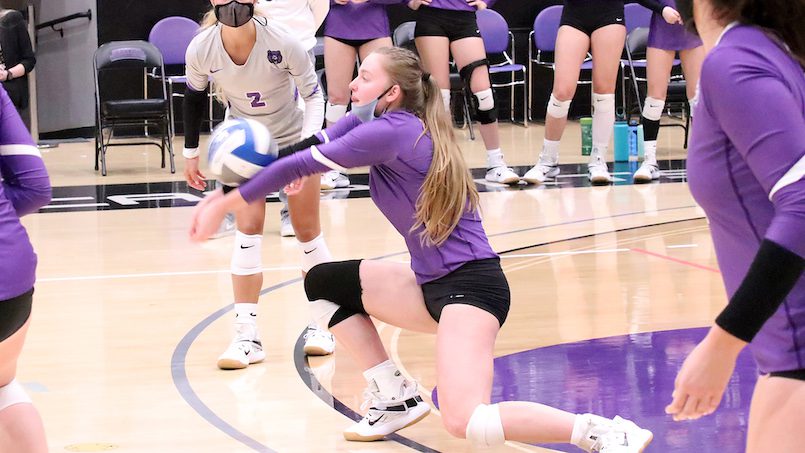 Stumbough is the most senior member of this Sugar Bear squad, and as of late September, has been the most dependable player that this team can ask for. Not only has she time and again turned in great performances on the floor, but she has also been an outstanding leader for the Sugar Bears.
Stumbough tied her season-high for kills in a thrilling win at Little Rock on Tuesday and was a huge reason for Sugar Bear wins at the Prince Center versus Eastern Kentucky and Bellarmine. Stumbough led the team in kills in all three matches this week, with 17 against Eastern Kentucky and 16 against Bellarmine on Sunday. Stumbough also added 17 digs versus Little Rock, and 16 against Eastern Kentucky.
Koons proved she was ready for a big time role in her first weekend with Central Arkansas. In a tournament in Springfield, Missouri, she totaled 140 assists over the three matches that weekend. She's been a consistent factor in UCA's offensive attack ever since, but she outdid herself this week.
The Springdale, Ark., native set her career-high in assists in the match against Little Rock with 51. An impressive number, no doubt, but it only lasted one match, because she put up 55 assists the very next match against Eastern Kentucky. While she didn't set a new career-high versus Bellarmine on Sunday, she was still consistent, and put up 38 assists in the three-set sweep over the Knights.
Head Coach John Newberry: "I'm excited for these two young ladies winning these awards. Both of them played integral roles in all of our wins.
I thought Caylan ran a consistent and balanced offense and created some great opportunities for our attackers. She was able to follow the game plan and make some quick adjustments to help the team be more efficient. I thought Caylan was most impressive against Eastern Kentucky with having all of our front row attackers having 10+ kills. 
Alexis stepped up big this week. Her statistics on the offensive side are extremely impressive but her back row defense was stellar. I thought she played confidently and smart."