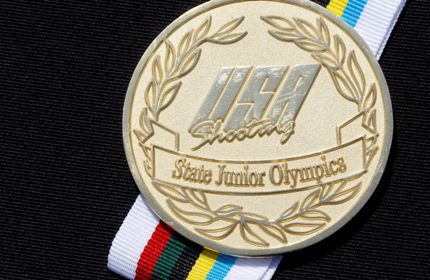 30 May 2012

Students take top honors in Junior Olympic Qualifier

Austin Odom of Benton and Amber Culwell of Rose Bud were recently named the top trapshooters in Arkansas high schools.

They were the overall winners in the 2012 Arkansas Junior Olympic State Qualifier at the Delta Conference Center near Tillar in southeastern Arkansas.


The competition was on the center's True International Bunker Trap fields, the type of facilities that shooters face in national, international and Olympic events.


The Junior Olympic Qualifier was part of the Arkansas Youth Shooting Sports Program, a highly popular project of the Arkansas Game and Fish Commission. The program is directed by Chuck Woodson.


The top men's medal winners:


Gold -Austin Odom of Benton.
Silver- Brady Cotton of Huntsville.
Bronze- Reed McPherson of Stuttgart.


The top women's medal winners:
Gold-Amber Culwell of Rose Bud.
Silver – Haley Colbert of Texarkana.
Bronze- Rosalyn Minyard of Malvern.


Twenty-two young Arkansans qualified to attend the Junior Olympic Development Camp at the Olympic Training Center in Colorado Springs, Colo.

Along with the gold, silver and bronze winners, the qualifiers are William Fryar of Oden, Dustin McGowen of Greenwood, Taylor Teague of Nashville, Josh Hall of Story, Cade Brown of Bee Branch, Avery Lamb of Nashville, Samuel Mason of Fouke, Ben Jewell of Texarkana, Wade Bradford of Bee Branch, Travis Old of Texarkana, Joshua Britton of Magazine, Kevin Weston of Mount Ida, Dustyn Belcher of Stuttgart, Grace Brown of Booneville, Brittany Smith of Greenbrier and Callie Walker of Ashdown.