15 Jan

Students at St. Joseph enjoy Dribblers program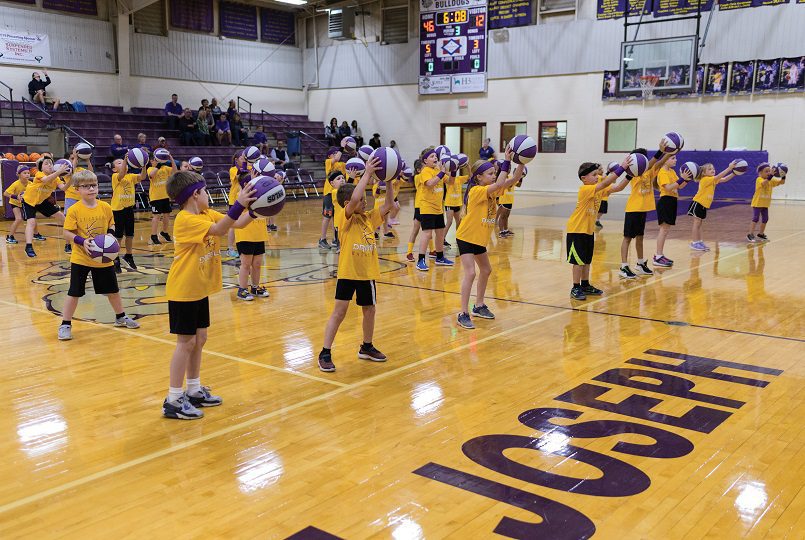 by Sonja J. Keith
For more than 10 years, St. Joseph Elementary School students have been having a ball learning the basics of basketball.
Laura Hiegel-Williams, director of the St. Joseph After School Program, created the Dribblers program and continues to oversee it today. She has led the after-school program for seven years, but worked with her mom since she was 15 and later while she was attending the University of Central Arkansas. 
"I cannot say enough kind words about Ms. Laura," St. Joseph Elementary School Principal Courtney Pope said, adding that Dribblers "pack the house" when they perform. "Laura is a true example of service and love to our school and parish community. She is always looking for ways to better serve our families and give back to the school."
A 1995 graduate of St. Joseph, Laura is all too familiar with the basketball tradition at her alma mater. In 1994, she was the AAU state MVP and an all-state player in 1995. She went on to play at UCA and was a starter every year. Laura still holds school records for free throws and blocked shots.
"I played high school basketball under the direction of the great Chris Kordsmeier. He instilled school pride, doing things the right way, team, love of basketball and most importantly life skills," she said "I will always be so grateful to him, he is like a second father to me, my siblings and many teammates."
Laura was inspired to start the Dribblers program at St. Joseph after she saw similar programs popping up in the area. "My oldest son, Triple, who is now 20, was in the first grade. He was already showing a passion for the game, and I thought, 'It's hard to find school athletic activities for the younger grades.' 
"I knew this was something I could do at St. Joseph while giving back to my high school coach. I could also bring my kids with me, volunteer for a school I love, make money for our booster club and include more kids at an early age with the love of basketball by getting a ball in their hands. It's totally a win!"
The program, which draws between 45 and 55 students each year, is open to grades kindergarten through sixth. "We will work with anyone willing to put themselves out there. Everyone can do something!"
Since its inception, Laura estimates that Dribbler participants have numbered more than 500.
The program goals are simple, according to Laura. "To put a basketball in their hands, learn basic basketball skills, become a good team member on and off the court and let them dream big!"
While very rewarding, the program can also be challenging. "It's like wrangling cats or an octopus," Laura said with a smile. "We are a large group, and they have to 'hold the ball' while myself and assistant coaches  teach them the next skill. These kids want to dribble all the time and have tons of fun energy.
"It's amazing to see them the first practice and then compare them to their final performance. They learn a lot in a short amount of time — dribbling stance, King's drills, spacing, listening skills and basketball terminology — while getting to feel a part of their school in an extra special way."
There are four one-hour practice sessions in October and November for participants to learn a routine, which is new every year. Four performances are held in November and December during St. Joseph High School basketball games. A few performances have also been held during games at UCA. 
"We learn the routine on the first day and hit the ground running," Laura said. "We break up into two groups, one ball handling and the other is shooting and basic skills, then we switch. We practice from 5 to 6 p.m. so parents can let their child participate during After School Program hours and save them from running around."
On the night of a performance, the stands in the St. Joseph gym are full. "We are huge! We pack the stands with extra parents, siblings, grandparents, aunts and uncles that don't normally come to the games. They love to see their little one's big debut. Then those same people end up coming to more games to follow up on how our Bulldog team season is going and how they are playing," she said, adding that she reminds those in the concession stand to make sure it is fully stocked. "We sell out of almost everything on Dribbler nights! This helps out our booster club with many expenses such as gas for the buses, uniforms and referees."
The Dribblers registration fee is $40, which includes a ball, shirt and team picture. "The booster club does make a small amount off of registration after balls and shirts are paid for, and then profit off of the gate and concession stand." 
The name and logo for the team sponsor — Hiegel Building Solutions — appears on the back of the Dribblers shirts along with a scripture: "If God is for us, who can be against us." Romans 8:31. Hiegel Building Solutions is a full-service, licensed general contractor that specializes in commercial services for Central Arkansas. 
"This is my younger brother, Greg Hiegel. He was always in the stands supporting me when I played at St. Joseph and UCA. Many times he was the camera man in the stands. He knows how much I love kids, basketball and St. Joe," said Laura. "Greg and his wife, Rachel, have three kids that will all be going to St. Joe, and he already wants to give back and is doing so by being our team sponsor."  
Laura said the Dribbler program is helping to continue the basketball tradition at St. Joseph. "We are instilling that love of the game early, that 'be a part' attitude and school pride," she said. "We get to cheer for our high school teams while we wait for our turn to hit the floor at halftime. We put our hands up and make a tunnel for when the teams run out onto the court for warm-ups, and then it's time for our halftime performance show!"
Laura is appreciative of others who have helped make the program possible. "I could never do it without the huge support of Jody, my husband for 21 years. He lets me dream and do what I want for St. Joe. He has always aired up 45-plus basketballs each year, which is a time-consuming task, and is always a wonderful helper.
"Thank you also to the many assistant coaches over the years for their patience and knowledge of basketball for these kids. It wouldn't be possible without them and without God for putting me in the best Catholic school in the state for me and my kids."