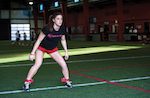 28 Feb 2011

Student learns 'biggest' lesson

by Donna Lampkin Stephens

Gracie Frizzell took what turned out to be a devastating blow during a Central Arkansas Christian basketball practice heading into Christmas break.

Working on a play coach Steve Quattlebaum had put in for her, she bumped knees with a teammate. It seemed to be a minor injury, but the diagnosis turned out to be a shredded anterior cruciate ligament.

Her senior season — and with it, her Lady Mustang career — was over barely after it started.
"I was driving in and hit a girl's leg," she remembered. "My leg kind of popped back, and I felt a pop. The first thing that came to my mind was an ACL, but there wasn't excruciating pain. I didn't think anything of it; after 20 seconds I walked off the court and thought everything was fine."
But it wasn't.
"I'd been training so hard," said Frizzell, a two-time all-state player who signed with Ole Miss in November. "I've never trained so hard in my life. I was so focused, so ready for my senior season. I was ready to be a leader, and then this happened."
With a few weeks of perspective and a lot of faith, she's moved beyond that initial reaction. "I'm kind of thankful now because I know God has a purpose for me, a plan in this, and it's only going to make me stronger," she said. "That's what adversity does."
Quattlebaum, who has coached her since she was in eighth grade, remembered the practice incident as "one of those freak things."
"One of the benefits of her working out was her legs were so well developed, it didn't hurt anything else," he said. "Years ago, it would've been a career-ending injury."
Frizzell, a versatile 5-foot-10 player, has contributed everywhere for the Lady Mustangs, one of the best girls basketball teams in Arkansas for several years.
For her Lady Mustang career, Frizzell averaged 18 points per game. "She's one of the few kids we've had who looks like a boy when she's playing," Quattlebaum said. "She can pull up and shoot jumpers off the dribble. Not a lot of high school girls can do that."
Frizzell, described by Quattlebaum as "just a hard worker, a yes sir, no sir kind of kid," grew up in England before her family (parents Tony and Cindy Frizzell and older brother Anthony) moved to Maumelle. She started at CAC in sixth grade.
"She was probably our third-best player in seventh grade," Quattlebaum said. "She just fell in love with the game, and she's worked harder than any kid we've ever had and probably improved more from where she started.
"She's the type to get up before school, work out every day, leave our practices and go shoot for another hour. Gradually, by ninth grade, she was probably our best one, and as a sophomore, she was one of the best players in the state."
Frizzell started playing pick-up basketball with her brother before joining a team in sixth grade. "My brother pushed me and he still pushes me to be the best I can be," she said. "He's kind of what made me start basketball, and I developed a love for it. Once I took up basketball, I knew this was what I wanted to do."
But her career at Mustang Mountain was plagued by injuries. She played her sophomore year with a stress fracture in her left leg. Last year, she hyper-extended that same leg.
After the injury this year, she made as many road trips as possible with her team, although some of the rides were hard on her knee.
But that didn't stop her from her leadership role.
"Being a leader is more than just being a leader on the court," she said. "It's off the court, too. It's encouraging, not just scoring. It's about loving and supporting your teammates in everything whether it's basketball or everyday life."
Frizzell started drawing recruiting interest the summer after her freshman year. Besides Ole Miss, she heard from Iowa State, Vanderbilt, TCU, Rice, Arkansas, UALR, University of Central Arkansas, Arkansas Tech and Harding.
"I wanted to find a program I fit into, not too far away," she said. "I feel like Ole Miss fit me best. I love the coaches and the atmosphere."
She said coach Renee Ladner was very supportive through the injury.
"She reminds me a lot of my mom, which I love, and she was sad for me, but she understands that injuries are going to happen," Frizzell said. "One piece of advice I'd give to anybody looking into colleges is you want to find a program that will love you and want you if you're hurt or healthy, and they're like that. I knew going into it, if I was going to get hurt, they'd still hold up their end of the bargain."
Frizzell is scheduled to report to Oxford on Thursday, June 30.
"They're going to rehab me real well, two or three times a day, so I should be ready to go when the season starts," she said.
Frizzell, who also won two state championships with her AAU team, the Arkansas Mavericks, boasts a 3.9 GPA and is involved in National Honor Society, Beta Club, Mustang Missions and Alpha Theta, a math club. She hopes to major in exercise science and minor in dietetics or nutrition.
"I really want to train people from a basketball perspective," she said.
And she hopes her Lady Mustang friends can win a state championship without her. CAC won state titles in 2005, '06 and '07.
"I know I can't be out there playing with them, but I'll be on the bench cheering for them," she said. "I'm their No. 1 fan."
Already, her senior season is one she'll remember forever.
"This is the biggest learning experience of my life," she said. "Ever since I picked up a basketball, I've always thought about it, but there's more to life than basketball. Now that (the injury) has happened, I'm thankful for it because it's only going to make me stronger.
"Circumstances don't define you. If you let circumstances define who you are, you're not a very mentally strong person."