29 Sep 2021

Stroud leading dominant Maumelle o-line

By Levi Gilbert

Entering his senior season, the goals were clear for Maumelle's Caleb Stroud.

"We want to be state champions in 5A. Playing as a team can get us there," Stroud said. "I want to play as best as I can and receive a football scholarship."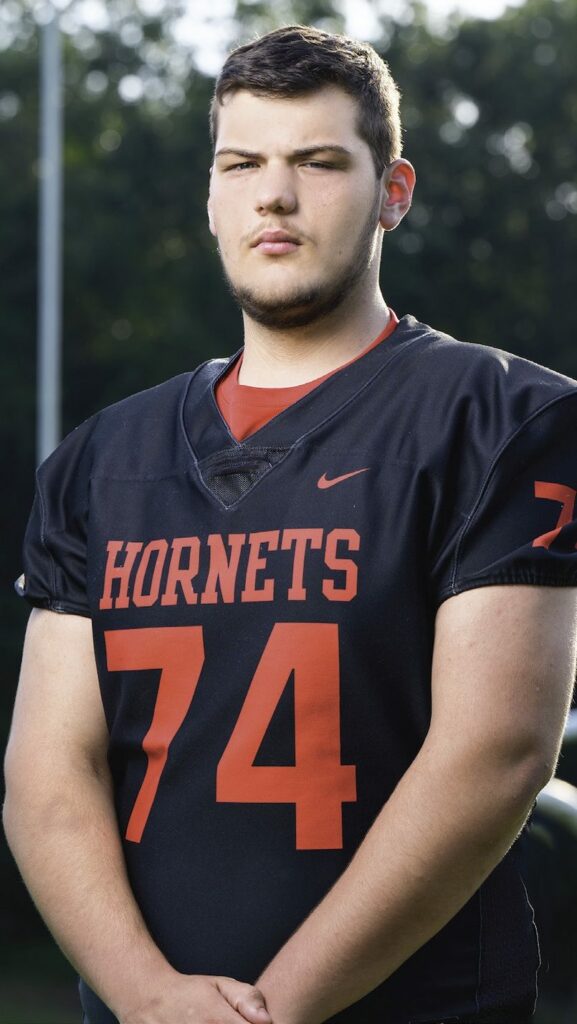 The 6-foot-7, 300-pound offensive lineman started every game in his junior campaign for the Maumelle Hornets after sitting out his entire sophomore year with a broken foot. The Hornets finished 2020 with a 6-3 overall record (3-1 in the 5A Central), beating Nettleton in the first round of the playoffs before falling to Wynne.
This season hasn't been as kind to Maumelle (1-4, 0-1). While the record doesn't look great on paper, it doesn't tell the whole story. The Hornets have been in the game in every loss, falling by an average of just four points.
"We've learned that we have to play all four quarters and finish games," Stroud said. "We have to get our offense going. Our defense has been playing good enough to win. A lot of things are working for us, I believe. We just have to finish."
Stroud was selected to this year's 501 Football Team — 23 players representing all 11 counties of the 501. The team, sponsored by Conway Regional Health System, First Security Bank, Moix Equipment & Toy Company and Velda Lueders Coldwell Banker RPM Group, boasts the best the 501 has to offer both on and off the field. The senior was nominated by his head coach, Kirk Horton.
"Caleb's best attributes are his size, effort, coachability, work ethic and kind heart," Horton said. "He is empathetic and genuinely wants everyone to do well. He participates in our volunteer groups, especially with youth football. We expect Caleb to play at a high level this year, ensuring our offensive line is dominant." 
The Hornets welcome Beebe to Maumelle this week, and Stroud is pushing the offense to step up against the Badgers.
"The offense has to finish drives and put points on the board," Stroud said. "And the defense has to continue to play well."
In addition to playing on the gridiron for the Maumelle Hornets, Stroud also serves as the manager for the varsity basketball team. He learned his work ethic and receives motivation from an important figure in his life.
"My dad — it's been just us since my mother died," Stroud said. "And he has pushed me to be the best I can be."
Maumelle plays host to Beebe in 5A Central play at 7 p.m. Friday, Oct. 1.

Latest posts by Levi GIlbert
(see all)