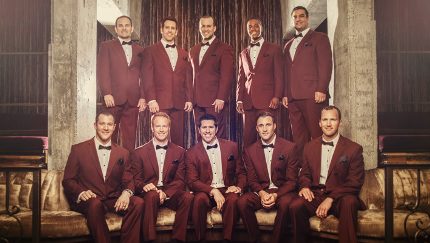 28 Oct 2014

Straight No Chaser sold out

Posted at 11:06 AMh

in

News

by Cassidy Crawford
College of Fine Arts and
Communication Media Office


Renowned professional a cappella group Straight No Chaser will perform at the University of Central Arkansas's Donald W. Reynolds Performance Hall to a sold-out crowd on Wednesday, Oct. 29.

The group will take the stage at 7:30 p.m. Although the show is a sell-out, turn-back tickets may become available prior to the show.


Back by popular demand, Straight No Chaser will be returning to UCA for the third consecutive year. This performance will be part of the 15th anniversary season celebration of the Donald W. Reynolds Performance Hall.


"We are thrilled to be kicking off our Best of Reynolds series with Straight No Chaser," said Amanda Horton, director of UCA Public Appearances. "The Best of Reynolds series celebrates the 15th season at Reynolds Performance Hall by bringing back some of our crowd favorite artists."


501 LIFE is the sponsor for "The Best of Reynolds" series.


This is Straight No Chaser's third straight sold-out show at UCA.


The performance is part of the group's "Happy Hour Tour" that will involve 66 shows in 58 cities over three months. The group will be putting its distinctive a cappella sound to a wide variety of famous songs by music icons and pop stars.


"Every time they perform we get so many calls, emails and messages asking us to bring them back," said Ashley Love, director of finance and marketing for UCA Public Appearances. "We thought they would be a great fit for the 15th anniversary at Reynolds because they always put on such a great show."


Straight No Chaser will perform songs from its album "Under the Influence" and many Christmas classics.


The group was formed in 1996 by 10 students at Indiana University. As well as producing an extraordinary sound with their harmonies, they incorporate humor and dance into their performances with an energetic vibe.


Tickets range from $23‐$40 for the general public and $10 for children and students. For ticket availability, call UCA Ticket Central Box Office at 501.450.3265 between 10 a.m. and 4 p.m., Monday through Friday or toll free from anywhere in Arkansas at 1.866.810.0012 or visit uca.edu/reynolds.


For more information contact Horton at 501.450.3682 or [email protected] or Love at 501.852.7889 or [email protected].