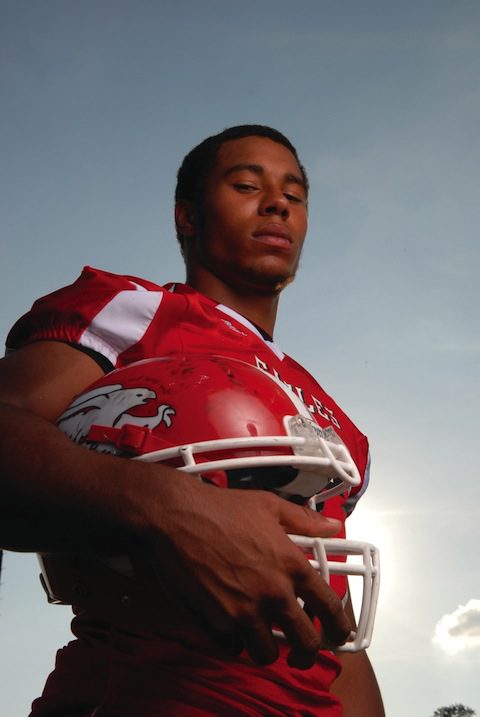 02 Nov 2011

'Sticking together and playing as a team'

by Donna Lampkin Stephens


Football season hasn't lived up to his hopes, but as with so many events of 2011, it has taught Vilonia's James Sax important lessons.


Sax, a 6-foot-1, 210-pound senior running back for the Eagles, is one of the 17 players named to the first 501 Football Team. Their coaches nominated them based on their play and contributions off the field.


At press time, Vilonia was 2-6 overall, 1-4 in the loaded 5A-West.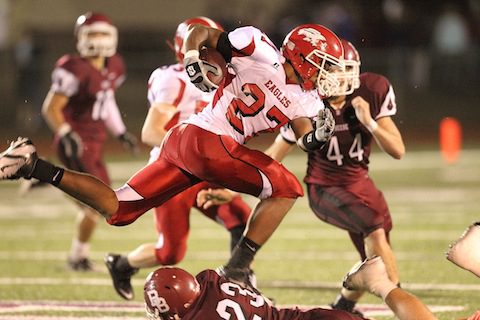 "The team is always a team; you stick together through thick and thin," Sax said of this latest lesson. "Right now it's been pretty rough on us, but we're still sticking together and playing as a team.

"Besides the losses, which brought the team's morale down, as far as the senior class goes, we've had a good year. We've all got along; we've started working together as a team. It's been a fun year."

Another important lesson came in April when the devastating tornado struck Vilonia. Sax's home wasn't damaged, but he said a hill 200 meters from the house took the brunt of the wind. His family — including four younger siblings — huddled in the bathroom underneath blankets and mattresses.

"It was really loud," Sax said. "We didn't know what to do, but we survived it."

But there was work to do afterward. Six months later, life has pretty much gotten back to normal.

"Most of the wreckage has been cleaned up, and for the most part, everything is fine, but at first, it was tough," he said.

That experience put things in perspective for him, making him realize how much some things really mean and how much some things don't.

Yet another hurdle came earlier this fall when his grandfather, David Goff of Casa, died of cancer.

"We were really close, but he's moved on, and I'm glad he's not suffering anymore," Sax said.

In nominating Sax, Vilonia coach Jim Stanley listed speed and strength among his on-field qualities and good moral character off the field.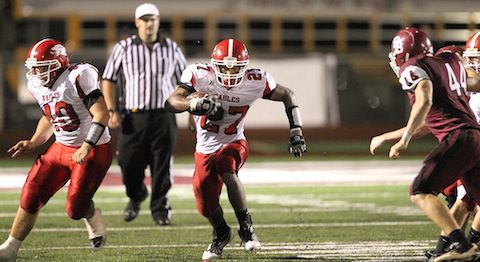 "He is very well liked in the community because of his kindness and compassion to others," Stanley said. "He's a great young man who never displays any kind of bad sportsmanship. He's a hard worker and a person who truly cares for each of his teammates."

While Sax said he wouldn't describe himself as one of the team's major leaders, the Eagles would likely dispute his humility.

He leads by example.

"We all give each other a hand," he said. "We always pick each other up; we're always trying to do what's best for each other and bring up the confidence in our other teammates."

He's even dressed up as the Easter bunny for an FCA event a couple of years ago.

"It was good for everybody except the little kid who cried," Sax remembered. "I felt sorry for him."

Sax moved to Vilonia when he was in second grade from Russellville. He said he'd enjoyed the smaller community where everyone knows everyone's family.

"That brings a bigger bond, especially with the football team," he said. "It's been great for me."

He earned all-conference honors as a junior after starting football in seventh grade, and he's planning to continue beyond high school. The question is where. He's garnered interest from such schools as Arkansas, Arkansas State, Ole Miss, Nebraska and Louisiana Tech and said, "I'd like to play for the Hogs."

Sax was at the last game in Reynolds Razorback Stadium on a recruiting trip to watch Arkansas beat Auburn.

His goal is to make all-state this season. He's a good student — he said he had A's, B's and one C. But "math is not my subject."

He said he was surprised and honored to be selected for the first 501 Football Team.

"We have a great group of people on our team, and any of us could've been chosen," he said. "I'm just thankful I got to be a part of it."