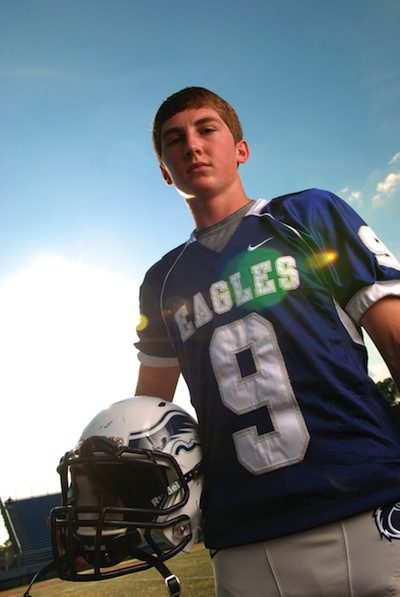 12 Oct 2011

Stevenson 'puts God first' on the field

by Levi Gilbert


The Conway Christian Eagles have made the playoffs each of their three years in Arkansas Activities Association play. And with junior quarterback Tanner Stevenson running the offense this year, the Eagles (4-2) are well on their way back to the postseason.


In Stevenson's first year leading the offense, the Eagles are averaging almost 40 points per game. Points aside, Stevenson and the Eagles remain focused on not just making the playoffs, but making a deep playoff run.
"Getting a chance to go to a playoff game last year is my favorite football memory," Stevenson said. "I will never forget the excitement and support that goes along with the playoffs."

The Eagles fell in the first round of the playoffs last year at East Poinsett County, 46-38. In their three AAA playoff appearances, the Eagles are 0-3, but that isn't hanging over Stevenson's head. He's focused on controlling the things he can control.

"My goals this season are to represent Christ on the field, play to the best of my ability each and every play and do everything in my power to help my team win," Stevenson said. "As a team, we have to play our hearts out every time we touch the field and everybody do their part so we can win.

"We want to make it further in the playoffs than we have in previous seasons and represent God with our play."

First-year Eagles head coach Michael Carter has nothing but high praise for Stevenson.

"He's always positive – a great encourager," Carter said. "He lifts people up and is a very good leader. He gives credit to others and makes the people around him better players."

For Stevenson, the real joy of football comes from the relationships he has built with his fellow players.

"The thing I enjoy most about football is the bond you have with your teammates," Stevenson said. "You know that they have your back every Friday night, and they have your back off the field as well."

Stevenson was among the 17 players from Central Arkansas named to the first 501 Football Team. Players were nominated by their coaches based equally on their contributions on and off the field.

"I expect Tanner to give it his all, all the time," Carter said. "We need him to be a leader on and off the field. He has such high character. He leads by example and puts God first in all he does."

This week the Eagles travel to Poyen for a 5-2A match-up with the Indians.