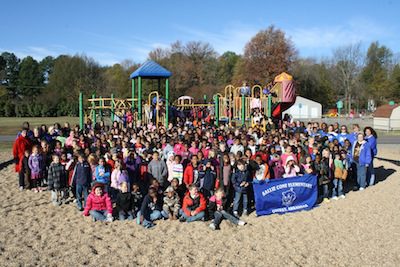 21 Jan 2012

Stepping up to help out the hungry

Posted at 10:02 AMh

in

News

Schoolchildren in Faulkner County recently showed they care about the hungry by participating in the "Step up to the Plate" campaign.

For the third year, 501 LIFE teamed up with the Arkansas Community Foundation (ARCF)/Faulkner County and local schools to help feed the hungry – presently and for years to come.
"We want to thank everyone who participated in this year's campaign," said 501 LIFE publisher/editor Sonja Keith. "There are so many of our neighbors who are in need of food. It is heartwarming to see so many 'step up' to lend a helping hand."
For the first two weeks in November, students collected money to support a hunger endowment established by the community foundation. Proceeds from the endowment are awarded each year to an agency involved in hunger relief. Students also collected canned goods for Bethlehem House, a homeless shelter in Conway.
This year's campaign generated $4,376 for the endowment and 10,527 canned goods. Since its inception, the campaign has generated $23,006 and 35,419 canned goods.
Ida Burns Elementary School in Conway had the largest school participation and is featured in this issue with photos of each grade at the school.
"Congratulations to Ida Burns," Keith said. "What a great school and wonderful group of students."
Three schools had at least $500 in donations and 500 in canned goods – Ida Burns, Sallie Cone and Theodore Jones. (See photos on Page 34).
"We were overwhelmed again this year by the response to our request for help to feed the hungry, especially from Ida Burns, Sallie Cone and Theodore Jones students. We can't thank them enough for their help.
"The students, staff and faculty at these schools have big hearts when it comes to caring for others in the 501."