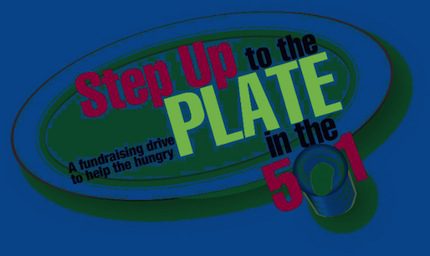 05 Nov 2012

'Step Up' collection day on Friday

Posted at 8:51 PMh

in

News

Local schoolchildren will "step up" and deliver canned goods and donations Friday to help feed the hungry – today and in the future. Area businesses and individuals are invited to do the same.
For the fourth year, 501 LIFE and Arkansas Community Foundation/Faulkner County are teaming up to help fight hunger with the "Step Up to the Plate" hunger initiative.

From Oct. 29 through Friday, Nov. 9, schoolchildren in Faulkner County have been challenged to:

Collect food for Bethlehem House, a homeless shelter in Conway that also operates a soup kitchen.
Collect money to grow the Stop Hunger Endowment for Faulkner County, a permanent endowment that provides a grant to a Faulkner County hunger agency each year… forever. So far, the endowment has produced three $2,500 grants – in 2010 for the Bethlehem House, and in 2011 and 2012 for the Soul Food Cafe' Mission.

Donations will be brought to Bethlehem House from 10 a.m. to 2 p.m. Friday, Nov. 9.

This year, businesses and individuals are also invited to participate. "If you and your business would like to join us in fighting hunger in our community on a permanent basis, here's your opportunity!" said Julie LaRue, executive director of Arkansas Community Foundation/Faulkner County. "As the endowment grows, so grows the amount available to grant out each year."
Schools that collect 500 food items and $500 for the endowment will be featured in 501 LIFE. In addition, business or personal monetary contributions to the endowment from the community will be listed too.

Schools that have registered to participate include Ida Burns Elementary, Simon Middle School, Theodore Jones Elementary, Marguerite Vann Elementary, Julia Lee Moore Elementary, Ellen Smith Elementary, the Conway High HOSA (Health Occupation Sciences Association) Chapter, Conway Christian School and Central Baptist College.

Arvest Bank, First Security Bank and 10 Fitness are also participating. Arvest will also be grilling hot dogs on Friday for volunteers dropping off donations of money and canned goods.
Donations are fully tax deductible.
Checks can be made to the Stop Hunger Endowment for Faulkner County, 1301 North Museum Road, Conway, AR, 72032. For more information, contact Julie LaRue at [email protected] or 501.932.0390. Information is also available at arcf.org by clicking on the Faulkner County button.