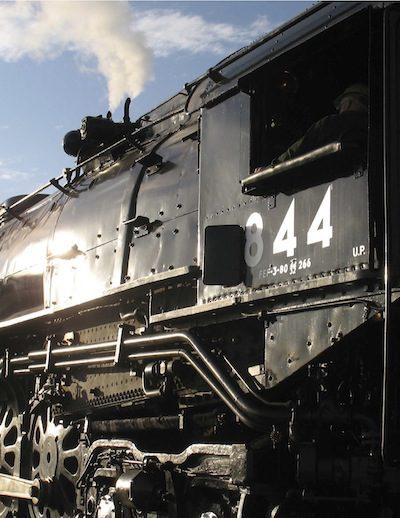 31 May 2011

Steam locomotive coming to the 501

Posted at 7:15 PMh

in

News

Union Pacific's legendary steam locomotive, No. 844, will soon be making its way through the 501 and other areas of Arkansas as part of the company's Great Adventure – You Route the Steam contest.


The Little Rock Express route won in voting conducted via a special contest website. In addition, individuals who garnered the most "points" via Facebook and Twitter earned two tickets each for a special leg of the tour.


No. 844 will make good on Union Pacific's promise to travel through the communities along the Little Rock Express route, which beat competing routes that included the Tuscola Turn, Baton Rouge Rambler and Boise Express. No. 844 started its 2,500-mile trek from the locomotive's home in Cheyenne, Wyo., on May 27.


The Little Rock Express portion of the tour began May 29 in Kansas City, Mo. The train will arrive at 5:35 p.m. Monday, June 6, at the Bald Knob station, 603 E. First St. It will be on display 10 a.m. to 6 p.m. Tuesday, June 7, in Bald Knob.


At 10 a.m. Wednesday, June 8, the train will depart Bald Knob, headed to North Little Rock. It is scheduled to arrive at 11:10 am. A stationary display day, which will conclude the Little Rock Express portion of the tour, is scheduled 10 a.m. to 6 p.m. Thursday, June 9, at Union Pacific, 1000 W. 4th St.


The train is scheduled to depart at 8 a.m. Friday, June 10, and arrive in Russellville at 10 a.m. for a 30-minute stop before continuing on to Van Buren, where it is scheduled to arrive at 12:20 p.m.


The trip celebrates the railroad's past with today's wired, social media generation in eight states. Known as the Living Legend, No. 844 is scheduled to make overnight stops with stationary displays along the route before arriving back in Cheyenne on Sunday, July 3. A detailed schedule that includes arrival and departure times for all of No. 844's stops can be found at www.upsteam.com.


"Union Pacific received an overwhelming response to the Great Adventure Steam Contest, which helped unite us with the communities we serve," said Robert W. Turner, Union Pacific senior vice president for corporate relations. "The contest connected this legendary piece of railroad history to people of all ages through today's technology. It is our privilege to bring No. 844 to help the Little Rock Express voters celebrate their social media networking success."


Steam Locomotive No. 844 is the last steam locomotive built for Union Pacific Railroad. It was delivered in 1945. A high-speed passenger engine, it pulled such widely known trains as the Overland Limited, Los Angeles Limited, Portland Rose and Challenger. When diesels took over all of the passenger train duties, No. 844 was placed in freight service in Nebraska between 1957 and 1959. It was saved from being scrapped in 1960 and held for special service.


The engine has run hundreds of thousands of miles as Union Pacific's ambassador of goodwill. It has made appearances at Expo '74 in Spokane, the 1981 opening of the California State Railroad Museum in Sacramento, the 1984 World's Fair in New Orleans and the 50th Anniversary Celebration of Los Angeles Union Station in 1989.

During the 1990s, No. 844 pulled numerous Denver Post Cheyenne Frontier Days specials and visited several Oklahoma cities during the Oklahoma Centennial in 2007. Last year, No. 844 traveled to Harlingen, Texas, and Milliken, Colo., to be a part of those communities' heritage celebrations.


A Global Positioning Satellite (GPS) transmitter was installed on one of the rail cars that will travel with No. 844. The GPS system has been integrated with a map at www.upsteam.com. Website visitors will be able to access a detailed schedule, route maps and other information. The GPS system will update the map every five minutes showing No. 844's location. GPS updates are also available at http://twitter.com/UP_Steam.