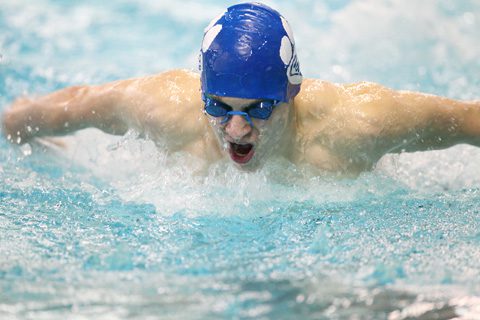 29 Feb 2012

State meet a 'battle' for Conway swimmers

by Mark Oliver


Only one word can describe Conway High School's recent trip to the state swim meet in Little Rock: it was a battle.


Winners of 11 of its last 12 meets, the Conway girls swim team looked to cap off its great season with a win at the state meet at UALR on Saturday. Unfortunately for Conway, however, some things just didn't go the team's way.

After placing first in the 200-yard individual medley, junior Jocelyn Woo came out of the pool battling cramps in both legs and was down for nearly 20 minutes, which put her out of the 100-yard freestyle event. Junior Annie Courtway battled illness, keeping her from performing her best in her events.

Lastly, because Woo was unable to perform in the 100-yard freestyle, she instead swam in the 400-yard freestyle relay. However, the team battled a disqualification in the event, with the officials citing a rule that an athlete could not be enrolled in more than four events.


At the end of the battle, Conway High finished second to Bentonville, 409 to 319.5.


"We started out with a blaze of glory — it was great," said Conway swimming and diving coach Christie Rye. "We came in to the meet with our divers doing well. We [often] placed higher than we were seeded and records were being broken everywhere. We had a great event, but Bentonville just swam better than us."
One of the biggest highlights of the day was the girls' 100-yard freestyle, in which freshmen Casey Ragsdale and Amanda Crnic placed first and third respectively. Filling in for Woo, both girls were seeded much lower than their competition and were placed in the first heat, which typically includes slower swimmers, making the win for Conway even more impressive.

"It was awesome," Rye said. "Casey was seeded ninth and Amanda tenth. They were swimming against each other and beat the second heat, which is very hard to do. I'm proud of them."

Junior Corissa Calico, freshman Sierra Kinworthy, Woo and Courtway placed first in the 200-yard medley relay with a time of 1:53.58. Calico also placed first in the girls' 50-yard freestyle with a time of 24.93 seconds and placed second in the 100-yard butterfly with a time of 1:01.43. Calico, Woo, Ragsdale and Courtway placed second in the girls' 200-yard freestyle relay with a time of 1:40.76, missing first place by four-hundredths of a second. Kinworthy placed third in the girls' 500-yard freestyle, with a final time of 5:35.77.
Despite low numbers, the boys' team battled hard, placing fourth overall with 209 total points.

"We were outmanned," Rye said. "Central just barely took third place from us. We just did not have the numbers."

Junior Tyler Crosson continued his MVP-caliber season, placing first in the 50-yard freestyle and placing second in the 100-yard backstroke with times of 21.08 seconds and 51.30 seconds respectively. Crosson, who's currently preparing for the Junior Olympics with AquaKids, is expected to make the All-American team for 2012.

"Tyler has been a leader for the boys," Rye said. "He is only a junior, but acts like a senior. He motivates everyone to swim their best and he is always there on the side of the pool when others need help. He's a great all-around kid."
Crosson, sophomore William Bryden, junior Ben Martin and senior Landen Ward placed first in the boys' 200-yard freestyle relay with a time of 1:30.95. Crosson, Bryden, Ward and sophomore Isaac Powers placed third in the boys' 200-yard medley relay with a time of 1:42.34. Bryden also placed second in the boys' 100-yard butterfly with a time of 53.38 seconds.

For their accomplishments at the state meet, the following swimmers were named to the all-state team and will have their pictures placed on the wall at Buzz Bolding Arena in Conway: Ragsdale, Woo, Calico, Kinworthy, Courtway, Crosson, Ward, Bryden and Martin.