14 May 2019

State champs: Culinary team shares winning recipes

The Conway High School Culinary Team – state champions – created a menu with an Asian flair for competition.

Senior students Hannah Bramlett, Gracie Childress, Triston Hollomon, Henley Masters and Lauren Murphy placed first in the ProStart State Culinary Competition. 

Throughout the school year, the team perfected their recipes and practiced preparing the dishes for the state contest. 

The culinary competition evaluates each team's creative abilities through the preparation of a three-course meal in 60 minutes, using only two butane burners. In addition, the students do not have access to running water or electricity. Students are judged on taste, skill, teamwork, safety and sanitation. 

In addition to creating their menu and learning how to prepare the dishes, the team had to calculate the cost of the ingredients.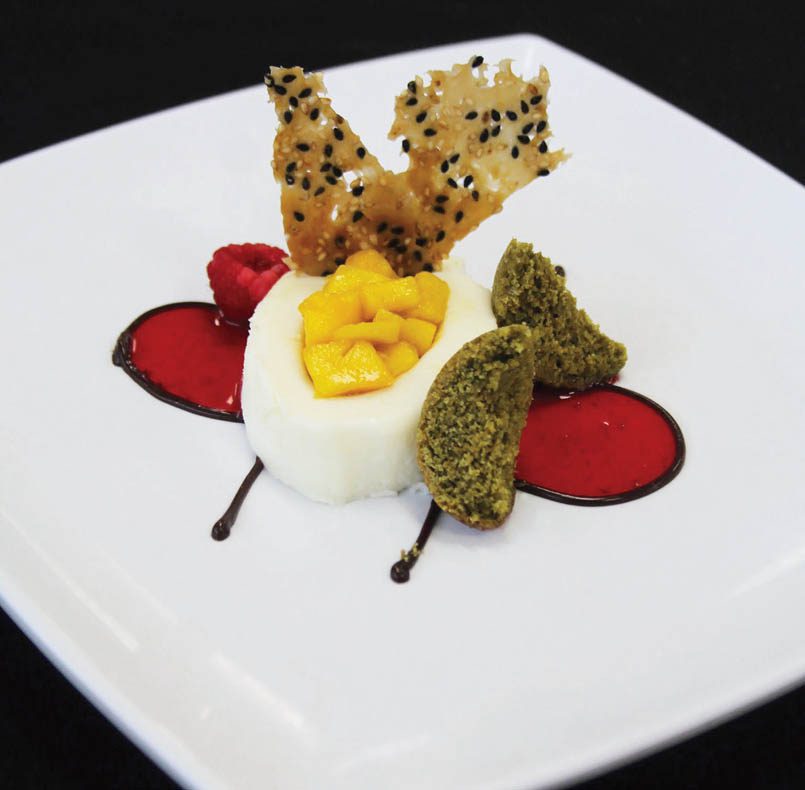 The team's menu:
Starter – Asian Slaw and Butter Poached Shrimp with Lotus Chips served on an Asian Aioli. Total recipe cost: $11.79.
Entrée – Black Tea Smoked Duck served on a sweet chili sauce with pickled Daikon Radish and garnished with seasoned microgreens. Total recipe cost: $25.94.
Dessert – Coconut Ginger Mousse, Fresh Mango, and Matcha Cake with a Sesame Nougatine atop a Raspberry Couli and Chocolate Ganache. Total recipe cost: $9.10.
The team and CHS culinary instructor Jennifer Park were happy to share their recipes with 501 LIFE readers:
Asian Slaw and Butter Poached Shrimp with Lotus Chips served on an Asian Aioli
(Makes two 6-ounce portions)
1/8 cup Sushi rice
1/2 cup water
0.5 ounces red pepper, julienne
0.6 ounces sugar snap peas, diagonal cut
0.25 ounces green onion, diagonal cut
0.5 ounces cilantro, chopped
1.7 ounces Lotus chips, thinly sliced
1.4 ounces cucumber strips, thinly sliced
0.65 ounces purple cabbage, julienne
1.6 ounces carrot, julienne
2.25 ounces Jicama, julienne
3 tablespoons mayonnaise
1 tablespoon, 1 teaspoon Gochujang
1 tablespoon honey
3/4 teaspoon rice wine vinegar
1 teaspoon Mirin
1 teaspoon sesame seed oil
1 teaspoon rice wine vinegar
1/4 teaspoon salt
1/4 teaspoon pepper 
1 tablespoon lime juice
1 teaspoon lemongrass paste
5.35 ounces shrimp, peeled and deveined
1/2 cup butter
1/4 teaspoon salt
1/4 teaspoon pepper
1/4 avocado
Boil rice and water in small pot for 6 minutes then remove from heat and cover with plastic wrap.
Mix red pepper, snow peas, green onion, cilantro, purple cabbage, carrot, and jicama in medium bowl. 
Mix the mirin, sesame seed oil, 3/4 teaspoon rice wine vinegar, salt, pepper, lime juice, and lemongrass paste in a small bowl until evenly incorporated.
Toss the just made marinade into vegetable mix.
Mix the mayonnaise, gochujang, honey, and rice wine vinegar in a small bowl until evenly incorporated and set aside.
Melt butter in small pan and add salt and pepper, then poach the shrimp for roughly 3 minutes on each side or until evenly cooked. Set on paper towel to absorb extra oil.
Scoop avocado with a 1/4 tsp.
Plating: Spread gochu sauce on plate in a diagonal. Wrap cucumber strip inside the ring and press rice into ring about halfway up. Fill the ring with slaw mixture and carefully remove the outer ring. Top with shrimp, lotus chip and avocado ball. Finish plating with other 2 shrimp, lotus chip and avocado ball.
Black Tea-Smoked Duck with Pickled Daikon topped with Dressed Microgreens and all served over an Agrodolce sauce
(Makes two portions)
2 6-ounce duck breast
1/2 cup Jasmine Rice
1/2 cup cranberry blood orange tea
1/2 cup brown sugar
6 Star Anise
1 tablespoon salt
1 tablespoon pepper
4 ounces Daikon radish, medium, diced
2/3 cup rice vinegar
1 tablespoon chili sauce
3/4 cup sugar
4 tablespoons water
1 Blood Orange, zested, peeled and sectioned
1 teaspoon chili sauce
4 ounces microgreens
1 cup Pickling Liquid
1 1/2 cups vegetable oil
1/2 teaspoon sesame oil
1/2 teaspoon Aji-Mirin
1/2 teaspoon salt
1/2 teaspoon pepper
Pickled Daikon Radish
In a 12-inch pan, add vinegar, sugar, water and 1 tablespoon chili sauce. Over medium high heat, bring to a boil. Once all of the sugar is dissolved, place diced Daikon Radish into tall bain marie canister. Once sugar is dissolved, pour over Daikon. Seal with plastic wrap tightly around the top and allow to pickle.
Black Tea Smoked Duck 
Set large pot with foil in the bottom over high heat. Add Jasmine Rice, cranberry blood orange tea, brown sugar and Star Anise into the foil at the bottom of the pot. Then add the steam basket on top of the mixture. Cover with lid and allow to heat up.
Season the duck breast with salt and pepper and score the fat in a criss-cross direction with sharp knife. Place the duck breast skin-side up in steam basket. Put lid back on and smoke until duck reaches an internal temperature of 120°F.
Once the temperature is achieved, allow the duck breast to rest in a small prep tray. Cover with another small prep tray to conserve heat. Allow to rest for 10 minutes.
Next, place large saucepan with vegetable oil over very high heat. Then, put duck skin-down in pan and fry skin only until nice crisp and firmness to duck skin. Place on small cutting board to rest. 
Blood Orange Agrodolce 
Zest and peel blood orange on cutting board, and place into an extra small metal bowl.
Drain the Daikon pickling sauce from canister into medium saucepan over high heat. Add the zested blood orange, orange pieces and chili sauce to the sauce and allow to boil until thickened, and reduce to nappe. 
Put microgreens into small metal bowl and toss with salt, pepper, mirin and sesame oil. 
Plating: 
Square off duck pieces and cut diagonally.
Pour agrodolce sauce onto the plate uniformly. 
Center duck onto plate, and place Daikon on either side of duck. 
Top with dressed microgreens.