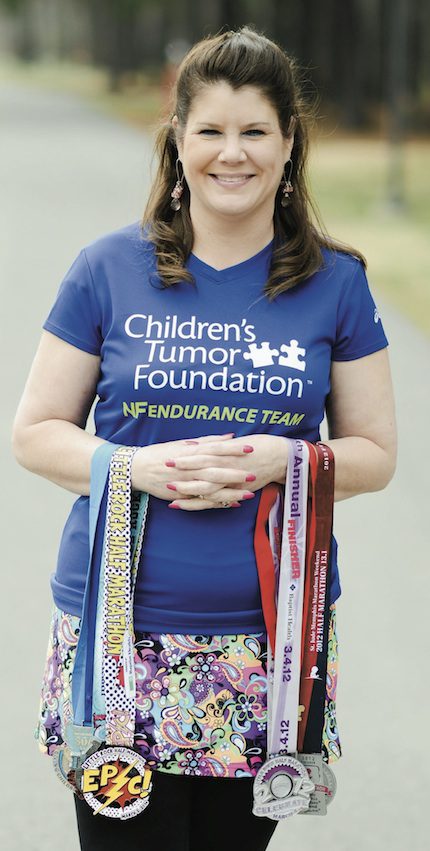 22 Dec 2016

Start of something new: Opening the door for male volleyball players

by Megan Ledbetter


Hayden Weber is hoping to open the door for men's volleyball in Arkansas.


"Not many boys would continue to do something when they are the only one, but he has stood his ground and continued to play, so I am very proud of him," said Angela Walls, director of the Conway Juniors Volleyball Club.

Although volleyball is known in Arkansas and the 501 area as a female sport, it is played by both men and women in other parts of the United States.


Hayden, an eighth-grader at Conway Junior High, was first exposed to volleyball when his older sister, Hailey, began playing in middle school. After playing volleyball with her in the front yard, Hayden began attending her practices and tournaments, not only to support his sister but to play himself. At his sister's tournaments, Hayden could be found on empty courts playing with whoever would join him.


At his sister's practices, Hayden helped the team by serving and scrimmaging. As a seventh-grader, he practiced with the Conway High School team on a regular basis. "If you can get up Hayden's serve, you can get up any of these girls' serves," Hayden remembers hearing Conway volleyball Coach Cheryl Bing say to the other players.


Hayden has a never-ending smile on his face, especially when talking about volleyball. He tried nearly every other sport available, including tennis, karate, football, basketball, soccer, baseball and gymnastics, but couldn't even pin someone down in wrestling without smiling. According to his mom, Shannon Weber, he is constantly practicing volleyball in his room, passing, setting and hitting to himself from the time he gets home until he goes to bed.


"He wanted nothing in his room so he could play volleyball," Shannon said. "His room looks like a prison cell. We were going through multiple light bulbs a week, but you hate to tell him 'no' because it is helping his skills, eye coordination and endurance. He comes out of his room sweating."


The Weber Family first met Angela Walls when their daughters played together on a Conway Juniors volleyball team. After meeting Hayden, she became adamant in finding him a place to play with Conway Juniors.


"Angela has been one of his biggest supporters and advocates. She has been great to him. She has helped him in any way she can," Shannon said.


In 2014 when Hayden was in the sixth grade, he began playing co-ed volleyball with Conway Juniors. He was accepted by the girls and their parents, which answered his parents' prayers and helped to build his confidence. His team won the gold bracket at the Conway Classic Blast tournament.


He played with Conway Juniors for two years, but has now reached the end of the line with co-ed options.


Due to his undeniable passion for volleyball, Hayden's parents began to look outside Arkansas for options. They found Mad Frogs, a boys' volleyball club in Dallas. They contacted a coach who invited him to play in the boys' national tournament during the summer. After driving nearly six hours three weekends in a row to practice, Hayden played 13-and-under against teams from Puerto Rico, California, Chicago and Hawaii.


Part of the experience of the boys' national tournament, which was meaningful to Hayden and his family, involved receiving gifts from USA Volleyball and exchanging small trinkets like keychains, bracelets and candy with the teams they played.


While playing with Mad Frogs in Dallas and learning more difficult rotations, Hayden discovered differences in playing boys' volleyball, including the level of encouragement, communication and aggression.


Hayden enjoys playing outside hitter, but he hopes to become a libero, like his sister. Nonetheless, he has been asked to play nearly every position by other teams, including setter. Although he is smaller in stature than other boys, he is more experienced, consistent and controlled. All in all, he does a little bit of everything. His best skill, though, is serving. During a Conway Juniors game, he once jump-served a shut-out set of 25-0.


After seeing a few other boys playing co-ed with different clubs, Angela and Shannon hope this indicates an interest in boys' volleyball. Angela also hopes Hayden's success and passion can open the door for boys' volleyball in Arkansas.


Angela would like to form a Conway Juniors boys' team in either court or sand volleyball. She requests that anyone interested in playing contact Conway Juniors. (For more information, visit conwayjuniors.com.)


Because they do not have a local team currently lined up, Hayden will continue to serve as the manager of the Conway team.


Hayden will also be traveling back to Dallas to play with Texas Premiere Boys Volleyball. The Mad Frog boys' team he previously played on merged with Dallas Premiere to form Texas Premiere Boys Volleyball. He will be going to several tournaments in the Dallas area, as well as, traveling to Oklahoma City for a tournament. If his team qualifies, they will be traveling to Ohio this year for nationals.


Hayden's goals are to play college volleyball and become a high school or college coach. "I do believe the boy has a future in volleyball if he continues to pursue it," Angela said.