17 Mar 2021

Stanley, Fitch, Collier II named All-SAA

ATLANTA – For the second-straight season, Hendrix forward Seth Stanley has been named to the All-Southern Athletic Association (SAA) first team, the league office announced Tuesday. Warriors forward Carl Fitch and guard Craig Collier II were honorable mention selections.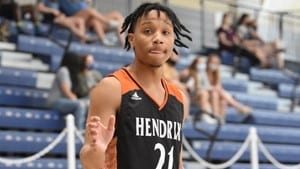 Stanley tied for third in the league in scoring, averaging 18.3 points per game. He was third in field goal percentage (.453) and fourth in free throw percentage (.836). In per game averages, Stanley was sixth in assists (3.0) and fifth in assist/turnover ratio (1.6).

Fitch led the SAA in blocked shots per game (1.8).

Stanley and Fitch tied for eighth in the SAA in rebounds per game (6.5).

Collier II ranked 18th in the SAA in 3-pointers made per game (1.4) and tied for 19th in scoring per game (10.0).

Hendrix advanced to the SAA Tournament semifinals.