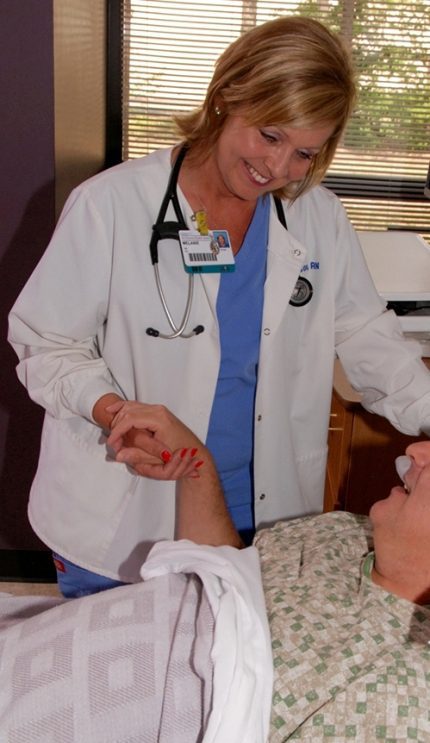 24 Jun 2013

St. Vincent Morrilton nurse named 'most caring caregiver'

Posted at 10:13 AMh

in

News

Melanie Morrison, RN at St. Vincent Morrilton, has been awarded the 2013 Nursing Compassion Award as "Arkansas's Most Caring Caregiver." Nominated by a group of her peers and some of her patients, Morrison was chosen as the most compassionate among hundreds of nurses from across the state.

Morrison has been a nurse in the ICU at St. Vincent Morrilton for nearly 10 years. She also worked at St. Vincent Infirmary for about a year. Although she says she got a late start by entering college when she was 30, Morrison always wanted to be a nurse. "I have always loved taking care of people. If someone in my family was sick I was the one to take care of them," Morrison said. She completed her nursing degree at the University of Arkansas at Little Rock in 2000.


The Nursing Compassion Award is the second honor for Morrison. She also received a Daisy Award in April 2012, which is given nationally to nurses to celebrate the extraordinary clinical skill and compassionate care they give every day. Morrison was shocked to learn that she was even nominated for the Nursing Compassion Award and was thrilled to recently receive the award at the Wildwood Park for the Arts in Little Rock. There were 11 finalists.


"I never expected it. I don't feel that I've done anything more than so many other nurses at St. Vincent. I work with a great team of nurses and all of them could have been selected for this award," Morrison said.


The Compassion Award is presented by Publishing Concepts Inc. The dollars earned from the event are used to educate Arkansas nurses. From the submissions and short essays, a nurse was chosen from each region of the state. Morrison was selected as the winner from among the finalists.


Among other things, Morrison received a free night's stay at the Capital Hotel in Little Rock, breakfast at Ashley's at the Capital Hotel, four tickets to Magic Springs Water and Theme Park in Hot Springs, four tickets to an Arkansas Travelers baseball game and two gift certificates from Corky's BBQ.