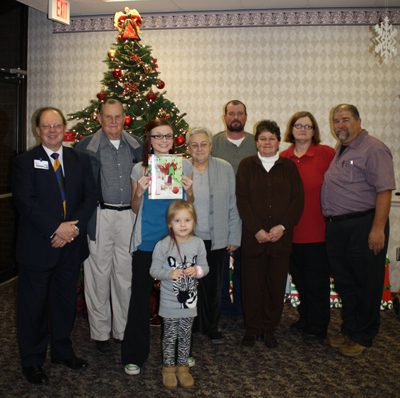 18 Dec

St. Vincent Morrilton hosts Lights of Love

by Sonja J. Keith


Conway County residents are honoring a special healthcare provider by providing resources that will benefit the place where she worked.


St. Vincent Morrilton recently hosted its fifth annual Lights of Love tree lighting ceremony and selected the family of the late Dana Holloway, a hospital employee, as honorary tree lighters.


"Christmas is a time of celebration and reflection," said Tom Fitz, interim hospital administrator, at the tree-lighting ceremony. "Tonight we celebrate those relationships that mean the most – those here and now and those forever in our hearts."


Holloway, a resident of Morrilton who passed away in April, worked as a nurse at St. Vincent Morrilton in the emergency department. A 2000 graduate of Morrilton High School, she was 28 at the time of her death.


The family expressed its appreciation to the hospital for honoring Holloway. "Words cannot describe. The hospital has been so good to us," said her mom, Laura Holtz, who added that family members still get approached by individuals who Holloway treated in the emergency department who want to show their appreciation for the quality of care she provided.


"She was just special," said Holloway's grandmother, Ann Huddleston. "We just want to thank the hospital. We are so lucky to have the hospital here."

Holloway volunteered her time to serve on the Overcup Volunteer Fire Department and was a 911 dispatcher for Conway County. She also served on the board of 100 Proof, a program focused on educating teens about the hazards of drinking and driving.


"St. Vincent was blessed by Dana's service to our hospital and to our community," Fitz said.


The Lights of Love tree is a way to honor or remember someone while supporting the mission and service of St. Vincent Morrilton. For a donation, individuals pay special tribute to loved ones, friends and others.


Gifts totaling more than $2,450 were received this year. "All proceeds from this event will be designated for the renovation work in the emergency department to enable our campus greater efficiency and increased patient privacy."


The tree features four endowed lights:
In celebration of Green Bay Packaging employees given by the company.
In memory of W.O. "Dub" Byrd by Bobbye Byrd.
In memory of Richard Duran by Morrilton Family Dental.
In memory of Nancy Gray by Paula and Benny Koontz.


Among the gifts, 501 LIFE placed an Angel in honor of its Conway County Editorial Board.


This year's Lights of Love tree will be displayed on the St. Vincent Morrilton lawn through December.


During the ceremony, St. Vincent recognized Ray Faulk, Paul Lemons, Johnny Garrett and Green Bay Packaging (Fiber Resources Division) of Morrilton for providing the tree.


For more information on the Lights of Love tree or St. Vincent Morrilton, please call 501.552.2381.