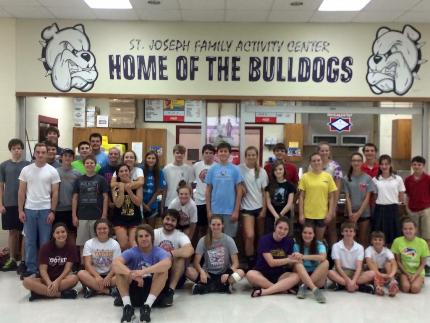 13 Oct

St. Joseph students lend a hand with school gym

Many St. Joseph School students recently answered the call to help from Athletic Director/Coach Chris Kordsmeier in cleaning the school gym to prepare for this year's use.


Students showed up and scrubbed showers and toilets; dusted shelves, loads of trophies, plaques and pictures; and swept and mopped floors, in addition to scrubbing walls and vacuuming carpets. For a good hour and a half, these kids worked.


"There's a spark of kids wanting to give back and help, and I'm so excited to see it and help it grow! We really do have great students here!" said Nicole Rappold.


Some parents and alumni also worked and were inspired at the sense of pride and hard work these students were showing for the school.


Comments from some of the students:


Lizzie Whitley (10th grade): "Helping clean the gym made me feel very blessed and proud that I can be part of a community that helps one another."


Hunter Trussell (11th grade): "I enjoyed seeing everyone working together to help out a huge part of our school community!"


Holly Detten (11th grade): "It made me feel like we are all a family and all work together for the same goal!!"