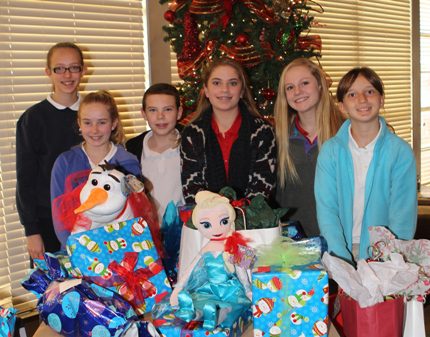 23 Dec 2015

St. Joseph students buy gifts to donate to CALL

Posted at 1:27 PMh

in

News

Students at St. Joseph High School recently purchased Christmas gifts for half-a-dozen children from Faulkner County who are living in foster care. It was a collaborative effort between the school and Children of Arkansas Loved For A Lifetime (C.A.L.L.)


Els Strickland, who now assists CALL, worked for many years with the Children's Advocacy Alliance. She's partnered with St. Joseph to help underprivileged children for the last 15 years. Much of that time, she worked closely with religion teacher Stephanie Shachmut on Angel Tree projects. After Shachmut passed away a few years ago, the school renamed it "Stephanie's Angels."


St. Joseph seventh, eighth and 11th grade religion students, along with boys basketball Coach Brent Bruich's varsity players, teamed up to buy the gifts. The money came from their own pockets and from a fund started years ago by Robert and Mary Taylor that was specifically set aside to further "educational, evangelical and missionary work to spread the word of God in the mission of Jesus Christ."


The gifts are going to four boys and two girls, most of whom are infants. CALL volunteer Louise Witcher delivered the gifts personally.