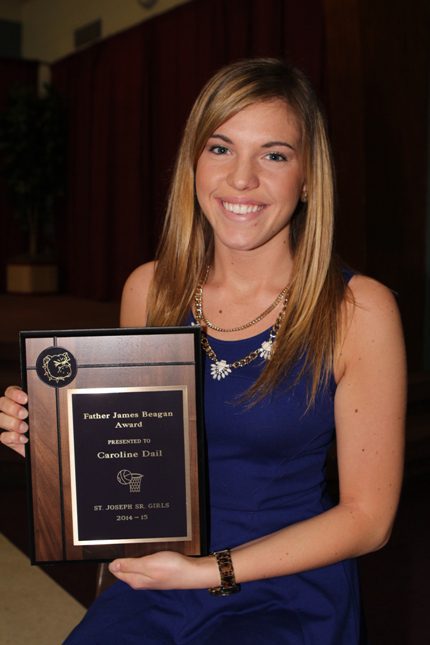 18 Mar

St. Joseph recognizes basketball teams

St. Joseph High School recently recognized its 7th grade, junior high and varsity basketball teams for season accomplishments. The highest honors went to the senior boy and girl who best represent the school both on and off the court.


William Fields received the Jim Banks Award which is named after the school's first boys basketball coach. He began the program in 1952. The award is given to a player for his "athletic ability, leadership, integrity, his treatment of fellow students and for his commitment to his school and church." The award was first presented in 1973. William is a son of Dan and Martina Fields.
The Father Beagan Award goes to the senior girl with identical qualities. Father James Beagan was an associate pastor at St. Joseph and was instrumental in developing the girls basketball program in the early 1950s. The award was created in 1978. Senior Caroline Dail is this year's recipient. Her parents are Mark and Marilyn Dail.
Another prestigious award went to an adult volunteer. The St. Joseph Booster Club presented its President's Award to Keri Hogan for her outstanding service to the school's athletic programs.