17 Nov 2011

St. Joseph PTO Auction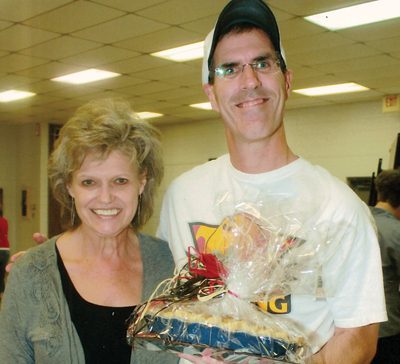 St. Joseph School recently hosted its annual PTO auction. Teachers and staff prepared baked goods that were auctioned. Many of the teachers, with the help of their students, also made ceramic platters to go with the baked items. Here are some of the recipes that were used:
Frosting in the Cake
by Betsy Beacham
4 eggs
3/4 cup vegetable oil
1 cup water
1 cup chopped nuts* (optional)
1 yellow cake mix
1 can coconut/pecan frosting (Betty Crocker)
Use an electric mixer to combine all the ingredients together, then fold in your frosting. Do not use the mixer after you fold in your frosting.
Bake 45-50 minutes at 350 degrees in a greased and floured Bundt or angel food tube pan.
Check with a toothpick for doneness.
Enjoy! If you want a festive look and more sweetness, sprinkle the top of the cake with powdered sugar.
*I never put nuts in the cake if I am taking it for a party. Too many people are allergic to nuts. The cake is wonderful without them.

Dutch Apple Pie
by Mary Joe Seiter
Put 1/2 cup sugar and 1 teaspoon cinnamon over sliced apples (use at least 4 apples). Place in pie shell.
Combine 3/4 cup flour, 1/2 cup sugar and 1/3 cup oleo (melted). Put on top of apples. Bake 10 minutes at 425 degrees. Turn oven down to 350 degrees and bake for 45 minutes.

Neiman Marcus Brownies
by Susie Freyaldenhoven
1 box butter pecan cake mix
1 stick butter, melted
1 egg
Topping:
1 lb. box confectioners' sugar
1 stick butter, melted
8 oz pkg. cream cheese
2 eggs
Chopped pecans
Combine cake mix, melted butter and egg. Mix well. Press into 13-by-9 pan. Combine confectioners' sugar, melted butter, cream cheese and eggs for topping. Pour over cake mix. Cover with chopped pecans. Bake at 300 degrees for 55 minutes.
Cool and cut into squares. Enjoy!

Nine-inch Cheesecake
by Bridget Davanzo
Crust
2 1/2 cups graham cracker crumbs
3 tablespoons sugar
1 teaspoon cinnamon
1/2 cup melted margarine
Filling
Three 8-oz. pkgs. cream cheese (softened to room temperature)
1 cup sugar
3 eggs
1 tablespoon lemon juice
2 teaspoons vanilla
3/4 cup sour cream (room temperature)
Crust – Mix graham cracker crumbs, sugar and cinnamon in a bowl; add melted margarine. Pour into 9-inch spring form pan and press halfway up the sides and across the bottom.
Filling – Blend cream cheese and sugar, adding eggs one at a time. When well blended, add lemon juice, vanilla and sour cream. Pour into spring form pan. Bake at 325 degrees for approximately one hour.
Filling should rise all of the way across the pan, and edges will start to lightly brown. Allow cake to cool to room temperature, then chill in the refrigerator before removing from pan.
Italian Cream Cake
by Monica Lieblong
1 stick butter
1/2 cup Crisco
2 cups sugar
5 eggs – separated (beat whites)
2 cups flour
1 teaspoon baking soda
1 cup buttermilk
1 teaspoon vanilla
1 can coconut
1 cup nuts, chopped
Cream butter, Crisco and sugar. Add beaten egg yolks. Beat until fluffy.
Add flour, baking soda, buttermilk and vanilla. Fold in beaten egg whites.
Add coconut and pecans. Bake at 325 degrees for 30-35 minutes. Use two 9-inch cake pans. Place icing between layers. Sprinkle pecans on top.
Italian Cream ICING*
1 (8 oz.) pkg. cream cheese
1 stick butter
1 box powdered sugar
1 teaspoon vanilla
Mix until smooth and spread over cool cake. *Mrs. Lieblong DOUBLES the Icing Recipe and adds coconut and pecans.
Chocolate Chip Cookies
by Jill Bausom
1/2 cup Crisco shortening
1/2 cup sugar
1/4 cup brown sugar
1 egg
1 teaspoon vanilla flavoring
1 cup and 2 tablespoons sifted flour
1/2 teaspoon salt
1/2 teaspoon baking soda
1 cup chocolate chips
In a bowl add shortening, sugar, brown sugar, vanilla flavoring and egg. Use a mixer to mix together. Add the flour, salt and baking soda. Stir with a spoon until mixed well. Then add chocolate chips. Drop by spoonfuls onto cookie sheet and bake at 375 degrees for 8-11 minutes or until light brown.

Sugar Cookies
by Abby Harralson
1 1/2 cups butter, softened
2 cups white sugar
4 eggs
1 teaspoon vanilla extract
5 cups all-purpose flour
2 teaspoons baking powder
1 teaspoon salt
In a large bowl, cream together butter and sugar until smooth. Beat in eggs and vanilla. Stir in the flour, baking powder and salt. Cover and chill dough for at least one hour (or overnight).
Preheat oven to 400 degrees. Roll out dough on floured surface 1/4- to 1/2-inch thick. Cut into shapes with any cookie cutter. Place cookies one inch apart on ungreased cookie sheets.
Bake 6-8 minutes in preheated oven. Cool completely.
Icing – Mix a small amount of food coloring in a jar of white whipped icing. Place icing in small Ziploc bag. Cut one corner of the bag to squeeze the icing out to decorate.

Chocolate Chip Bundt Cake
by Tamara McMillan
1 box yellow cake mix
1 small box instant vanilla pudding
1 bar German chocolate, grated
6 oz. chocolate chips
4 eggs
1 cup cooking oil
1 cup milk
Preheat oven to 350 degrees. Lightly grease and flour Bundt cake pan.
Mix cake mix, pudding mix, eggs, oil and milk on low speed for one minute. Scrape down sides of bowl and add grated German chocolate. Mix on medium speed for an additional two minutes. Fold in chocolate chips. Pour into Bundt pan and bake for 45-50 minutes or until golden brown and it springs back when touched.

Chocolate Chip Pound Cake
by Lois Coney
1 box yellow cake mix
1 small box chocolate instant pudding mix
1/2 cup sugar
3/4 cup oil
3/4 cup water
4 eggs
8 oz. sour cream
1 small package chocolate chips
Mix first six ingredients with wooden spoon. Add sour cream and chips (may melt chips). Bake in greased and floured tube pan in 350 degree oven for 50-60 minutes. Cool in pan for one hour. Remove and sprinkle with powdered sugar.