31 May 2022

St. Joseph Flea Market offers affordable shopping while supporting students

By Rita Halter Thomas

Who knew a thrifty flea market netting a first-year income of just over $2,500 would be still running more than 45 years later and be positioned to give $1 million toward the construction of the new St. Joseph High School building? So just what is the story behind the story?

Less commonly known as the Louise & Anne Thrift & Flea Market at St. Joseph, the store began in 1976 with two primary women, Louise (Nabholz) Skelton and Mary Ann Newberry as the first committee chairs. The name was influenced by a late friend, Anne (Hawks) McClinton, who loved to antique and shop flea markets. At first, it was an addition to the annual St. Joseph Bazaar for the purpose of providing financial support to the St. Joseph School.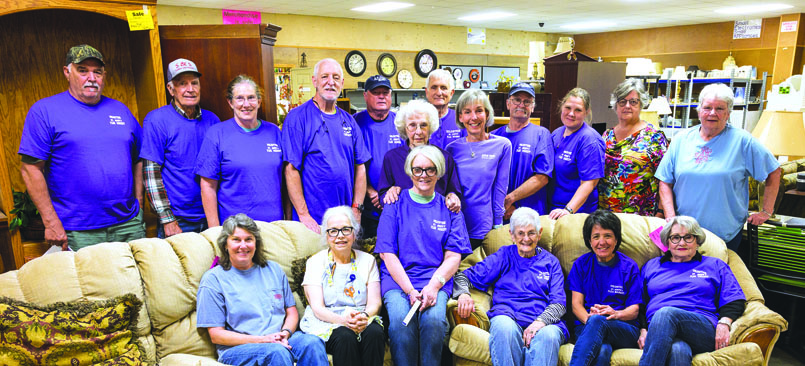 Mary Schrekenhofer has volunteered at the flea market for more than 40 years. Skelton was her husband's aunt. "I know that Louise's friend always loved antiquing and shopping flea markets everywhere. That's where the idea came from," she said.
By 2002, the market's popularity and the overflow of generous donations from the community prompted the change to a year-round store.
Today, the flea market offers everything from clothing to couches, linens to lawn items, hardware to holiday décor, books, baby items, toys, and more. Clothing and bric-a-brac are the two largest departments, but there is no shortage of variety. There is something for everyone, from collectors to the crafty, from treasure hunters to thrifty shoppers.
"Any new homeowner could really save a lot of money and probably furnish their home from the selection of the items available," said Dianne Johnson, a shopper from Massachusetts who stopped in while visiting a family in Conway.
Johnson said she was impressed with the quality of the used items available, as well as its organization. "The way everything is laid out makes things easy to find," she said.
While Johnson's shopping trips may be limited to the occasional visit, there are regulars, according to Mary Hoyt, flea market coordinator.
"We have regulars from Missouri who come every Thursday morning, along with people from all over, like Harrison, Clinton, Pine Bluff, and even further south," Hoyt said.
While treasure may be found there, the St. Joseph Flea Market itself is a treasure to the community. It's more than a myriad of merchandise. It is a ministry and a mission.
Primarily, the market's purpose is to provide enough funds for the school to hold tuition to an affordable level so parents can give their children the Catholic education they desire. By providing 14–16% of the school's annual operating budget, the flea market's income lowers tuition by approximately $1,000 per student each year.
However, beyond the savings for school tuition, area families benefit from the affordable quality clothing, shoes, and housewares offered. This is a critical benefit for impoverished families. Further, through the St. Joseph Missions Outreach, beds and   goods are bought and provided to the homeless and low-income families. Any clothes and shoes that don't sell are donated and distributed worldwide through a partnership with a Dallas affiliate. The flea market also recycles cardboard and metal to keep it out of the landfills and responsibly "care for creation," as touted in their brochure.
Many hands make light the work, as the saying goes, but aside from Hoyt's full-time position, everyone working the flea market is a volunteer.
"It takes approximately 320 man-hours per week to run the flea market," said Jim Strack, an eight-year board member and nine-year volunteer. "There are close to 80 volunteers right now. Some days we have 15-20, and others we have 30-40. Some days we only have five," he said. "We always need more. We have mostly seniors, and we need more help to lighten the load."
According to Hoyt and Strack, most volunteers are seniors ranging from 60 to 90-plus years old, some of whom have been involved since the beginning. "Evelyn Hoelzeman still works three days a week and has since the beginning, or at least near the start," Hoyt said. "Helen and Emil 'Doc' Kordsmeier, now in their 80s and 90s, still help out every week."
Strack, who noted Hoyt is retiring March 1, 2023, would like to assemble a larger pool of volunteers before she leaves. With the flea market filling such an important role in the school and the community, more involvement solidifies its continued success for generations to come.
"I'd really like to see more St. Joe alumnus who have the time to step up and help out, but you don't have to be," Strack said. "While many of our grandparents graduated from St. Joe, as well as our parents and our children, there are five people on our flea market board … who never went to St. Joe."
Volunteers do not have to be affiliated with St. Joseph School or St. Joseph Catholic Church. They just need to be willing to give a few hours or a few days per week. Last year, the flea market board stepped up with a huge pledge, tipping the scales so construction could begin on the new high school. Each volunteer helped make it possible for a new high school building to open for the 2022-2023 school year.
Those wishing to volunteer should email Hoyt at [email protected] or call 501.513.6899.